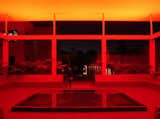 Turrell Skyspace Opens
If you ever wondered where architecture and art intersect, look no further than one of James Turrell's "skyspace" installations.
Only a few are in public collections, and the newest just went online at Pomona (CA) College, Turrell's alma mater. Go alone or with a loved one, preferably at dusk, and when the roof of the room slides away to reveal the sky, ponder the role of architecture in nature, and nature in art.
Get the Dwell Newsletter
Be the first to see our latest home tours, design news, and more.