This Home Proclaims Wheelchair Access Shouldn't End Outdoors
A barrier-free house enables a family to come together amid the vineyards in Northern California.
Melanie Maher and her husband, David, understand firsthand how the built environment can pose challenges to a wheelchair user. Melanie, who has muscular dystrophy, had grown accustomed to encountering obstacles with her motorized chair both at home and in the community. As the couple began thinking about building a multigenerational house in Northern California's Livermore Valley, their goal was clear. As David recalls: "We decided it would be nice to design a place that didn't require us to make so many compromises." Enter Erick Mikiten. Raised in Texas, the Berkeley-based architect is a proponent of universally designed environments that are usable by all. That Mikiten is also a wheelchair user mattered less to the Mahers than his ability to understand and articulate their vision. Seeking to accommodate Melanie's disability without resorting to what he calls "institutional products," Mikiten gave his clients an accessible kitchen, room for both extended family and a caregiver, and the ability to move between indoors and out without having to negotiate a single barrier. With a street facade that evokes a barn and contemporary standing-seam metal siding facing the surrounding vineyards, the 5,100-square-foot house was carefully sited and built using structural insulated panels, or SIPs, for maximum energy-efficiency. "They came to me thinking they'd get a solid, accessible home," Mikiten says. "They weren't expecting an architectural expression."
Newsletter
Join the Daily Dose Mailing List
Get carefully curated content filled with inspiring homes from around the world, innovative new products, and the best in modern design
David Maher: When we decided to build a new house, we'd already lived in nine other houses over the years, and we'd looked at hundreds of others. There's the hope that this property will support multiple generations: We have three grown children who live with us from time to time. We anticipated the possibility of our mothers living with us, as well as a caretaker for Mel, and eventually grandchildren. We wanted fewer barriers to daily living for Mel and our parents, natural breezes and light
in each room, unconfined open spaces, more intimate private rooms, and an environment that could simultaneously handle young adult commotion and offer peace and quiet for others.
Melanie Maher: The house had to have a sewing room with storage for notions and material, and access to the outdoors. We like a rural atmosphere, layered vistas, and different kinds of gardens, and we wanted everyone to be able to move around and appreciate them. We also like natural, renewable, and recyclable materials, and energy efficiency. We needed a parcel that could support a mix of open and private spaces, indoors and out.
David: When we finally found a site adjacent to land perpetually preserved by Livermore's Tri-Valley Conservancy, it was clear we needed an architect who could contend with conflicting requirements. After talking with about a dozen firms, we decided to work with Erick and his team. Erick was absolutely key, not so much because he is a wheelchair user but because he really listens and has a penchant for problem-solving.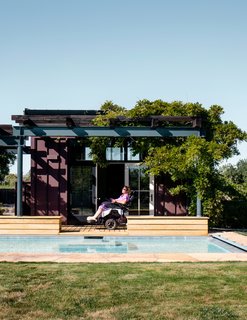 Melanie: We lived for years with barriers and limitations, and Erick kept reminding us that we no longer needed to do that. It was truly liberating. Knowing universal design as well as he does was a help, because it's the little details, like clearances and support placements, that are important. Everything pretty much works the way we'd hoped: The layout and flow of the house brings the outdoors in, the careful placement of remote-controlled and accessible windows enable wonderful breezes, and the audio [system] in the spacious living room streams concerts from all over the world. The kitchen—with an island that allows me to have access to a mini-refrigerator, freezer and microwave drawers, and a ceramic stovetop—also permits cooking at two other workstations by our daughter, who is a chef.
David: Preparing food at the counter or sitting at the island, you have a view of the deck, pool, lawn, stone wall, vineyard, winery, and hills.
Melanie: The master bathroom is another unique space. With the Guldmann lift [assistance system], I can reach any point in the bathroom, while a much-appreciated feature is the second vanity, which enables a smoother morning flow when two people need to prepare for the day. The sewing room is the hub of the house and connects the two parts: the cedar farmhouse and the modern, open shed. I feel comforted in the more traditional space, surrounded by sewing supplies and views [of the garden and vineyard]. We'd wanted to avoid having to make too many compromises and ended up with what was most important to us, which is more than we ever expected.