These Picture-Perfect Mirrors are Made for the Selfie Era
Whether wall-mounted, freestanding, or handheld, these adventurous sculptural shapes and accents have us reflecting upon the traditional looking glass.
Not since the days of disco have mirrors been this hot. As signs of other movements from the 1960s and '70s continue to reemerge through a contemporary filter—think tufted cushions, pastels, and illustrative, all-over patterns—mirrors, too, have become ripe for reinvention as an under-examined staple of interior design. 
Newsletter
Join the Daily Dose Mailing List
Get carefully curated content filled with inspiring homes from around the world, innovative new products, and the best in modern design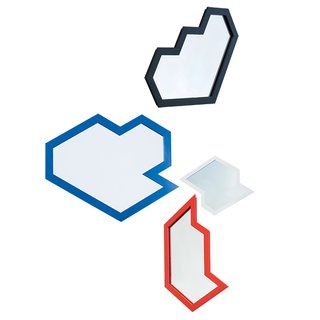 This was especially evident this spring, as the annual orbit of trade fairs saw designers introduce pieces that looked beyond the form as more than a mere reflector. Abstracted shapes, fine materials, finishes, and color-blocked accents all made an appearance, as did Op Art patterns and sculptural structures reminding us that mirrors can take on a dimensional, physical, and even space-defining presence. Functional aspects, too, were reimagined, with tactile grips and sturdy bases that suggested compact solutions and novel placements.
Representing the fairest of them all, the following selections challenge our gaze upon the conventional mirror—or at least make us acutely more aware of it, in a visual manner especially #trending among a generation of Instagram-friendly onlookers. In the age of the selfie, it seems, the beauty of a reflection lies not only in the eye of the beholder, but the apparatus through which it's framed.