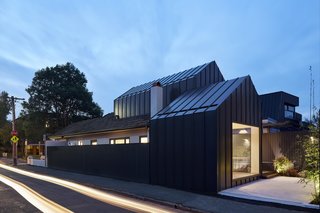 An Art Deco Dwelling Receives a Sleek, Contemporary Extension
Originally built in 1938, the revived Shadow House in Melbourne merges contemporary and Art Deco features.
When the owners of an old home in a Melbourne inner suburb first approached Nic Owen Architects, they had plans of replacing the existing dwelling with a pair of townhouses. However, after learning that the local council had listed the home for its high heritage significance—the residence was built in 1938 in an Art Deco style for librarian John Patrick O'Brian—the architects persuaded the clients to abandon demolition in favor of a sensitive renovation and expansion project instead.
Happily, the owners agreed to the proposal and to a design that defers to the architecturally significant features of the original dwelling, from the highly distinctive gabled and hipped roof to the unusual brick window hood details.
"Our approach was to create a shadow of the existing form, a modern sympathetic 'copy' of the O'Brian house which offers a simple homogeneous sculptured form, carefully positioned to complement the original building," explain the architects of the 1,370-square-foot project, aptly named the Shadow House.
In addition to more usable space and a contemporary refresh, the owners wanted the renovation to provide a stronger connection with the outdoors and greater access to natural light without compromising privacy—a challenge given the site's corner location next to a busy, south-facing street.
To obscure unwanted views, the architects erected a long fence on the south side built of the same black Colorbond standing-seam metal panels used to clad the new extensions. These monolithic volumes feature rooflines that mirror the existing roof pitch, and were designed with a "simple, clean aesthetic, removing all superfluous visual elements."
The majority of the existing home was retained save for the rear lean-to shed, wet room fit-outs, and an internal wall, while the extensions enlarged the living areas and made room for an extra bedroom. Strategically placed windows and skylights flood the interior with natural light.
"The Shadow House, a three-bedroom residence on a small site, offers a sympathetic response to historically sensitive, inner-city living," notes the firm.
Get the Renovations Newsletter
From warehouse conversions to rehabbed midcentury gems, to expert advice and budget breakdowns, the renovation newsletter serves up the inspiration you need to tackle your next project.