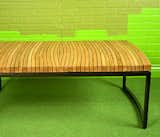 The Secret Life of Kentucky Bourbon Barrels
There seems to be more reclaimed wood in Brooklyn than trees themselves. This probably is both a good thing and a bad thing—reclaiming used wood being the good half of that equation, and any tree-less block the bad half. Enter Uhuru: the Shaker-inspired group in Red Hook that designs and builds tables, seating, beds, lamps, storage units and mirrors out of wood that has been reclaimed, recycled, repurposed, reused or otherwise rejected from its original purpose.
Most recently going on in the Uhuru workspace is the Kupe Line, made entirely out of reclaimed charred white oak bourbon barrels. "Kupe" is the Middle Dutch origin of "cooper". The barrels, however, hark from Bardstown, Kentucky—near the Louisville roots of Uhuru co-founder Jason Horvath, who just went back home to Kentucky to salvage thirty precious barrels.
Get the Dwell Newsletter
Be the first to see our latest home tours, design news, and more.