Romanced by Marfa's charms, a couple find prefab an apt solution for building in the remote desert.
The beauty of Far West Texas lies not in its lushness, but in its isolation. More than 400 miles west of San Antonio, the small, handsome town of Marfa sits in the rocky Chihuahuan Desert, backlit by two mountain ranges and a panorama of ocotillo-speckled shrub land. It's exactly the view Don and Linda Shafer wanted.
Newsletter
Join the Prefab Homes Mailing List
Get carefully curated content filled with inspiring homes from around the world, innovative new products, and the best in modern design
"We just had that need to live in the high desert," says Don. Before moving permanently to Texas in the late 1980s, the couple had spent years back and forth between Santa Fe and Austin, with five grandchildren spread across the two cities. Nearing retirement, they started spending time in the Big Bend region and became smitten with the landscape, but after trying their hand at desert living at a friend's cabin in the nearby town of Marathon, they found it "a little small for us," Linda says.
Marfa—where your neighbors might, with equal feasibility, be local ranchers or art-world sophisticates on holiday—skews a bit more urbane, and better met their criteria for a place with "few or no mosquitoes" and cooler climates than those in Austin. Access to a latte and The New York Times didn't hurt, either.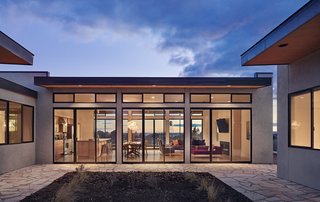 Having once restored a 200-year-old adobe in Santa Fe, the Shafers itched to complete another historic remodel and purchased a 1914 prairie-style dwelling. But as they worked with a restoration architect to unpeel renovations completed by its subsequent owners in the 1950s, crucial signs of decay and disrepair led them to take it down.
Deciding to build new, they bought plans by an architect based in Taos, New Mexico. But the same isolation that lends Marfa its charm and beauty, they found, also makes for building costs that can rival those of New York City. When they saw the construction estimate creep toward $350 a square foot, those plans, too, were shelved.
That's when the Shafers found Austin-based architect Chris Krager of Ma Modular, which has specialized in prefab since 2008. After years of housing woes, the couple were drawn to the idea of having their home built in a controlled factory. The cost, even with transport expenses, was reduced significantly, to about $135 per square foot.
Krager's design called for building four prefab volumes: Two units would be combined to make the living room, while the other two would form the master bedroom and a detached guesthouse, creating a three-sided courtyard, and a retreat from West Texas winds.
To build the modules, Krager looked to the firm GroundFORCE, based in Navasota, Texas, specifying precast concrete for its durability as well as for its poetic quality as both a structural and finish material. "There's a beauty and an economy in that," he says, though the final structures were so heavy, the shipment truck blew out more than 40 tires on its eight-hour drive to Marfa.
The modules were fabricated in six weeks and assembled in one; on-site finishes took another year. At 2,475 square feet, the home carries little evidence of prefab, save for a single steel rail—the "marriage line," as Krager calls it—that runs the length of the two modules that make up the main living area.
Heavy doors "looked too confining in the guesthouse," says Linda, so the couple opted for wooden sliding doors with translucent glass. They then outfitted the space with furnishings from Design Within Reach and bright watercolors by local Texan artists as warm counterpoints to the industrial surfaces.
"This was definitely a custom home for them," says Krager, who cautions that while prefab isn't a catch-all solution for every site, building modular was the cure to keeping both the construction process and costs manageable in a town as remote as Marfa.
"When we lived in Santa Fe, we thought remodeling that 200-year-old adobe was the longest, most horrible process imaginable," recalls Linda. Three designs and several years later, she's now convinced it doesn't compare to the challenges of building in Marfa. "But you just have to be here," she says. "You want to endure."
Shop the Story