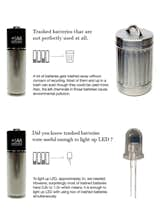 The Energy Seed
Because I have been told time and again that disposing of batteries in the garbage is a terribly destructive thing to do, I generally collect my spent batteries in an old container in my house. My intention, obviously, is to take them to a disposal site, but with time that container tends to get increasingly full and my inertia increasingly strong. I've grown accustomed to simply having a dark drawer or box where old batteries live.


Knowing this problem is all-too-common, Korean designers Sungwoo Park and Sunhee Kim created a gadget that makes use of old batteries and provides efficient light. The Energy Seed is an LED lamp intended for public spaces—streets, parks, and the like. At the base of the donut-shaped bulb are a series of holes into which alkaline batteries slide and get drained of their remaining juice. The aggregated energy from the spent batteries powers the light.

The concept is a nice way to demonstrate possibilities for getting a fresh product from a spent object, though of course it's not an actual solution to the problem of alkaline batteries in our waste stream. Once those batteries are fully expended and a new set goes in, the dead ones still must be disposed of somehow. Perhaps municipal employees could incorporate the task of responsible disposal into the job of keeping the lamps juiced, but the better solution will likely come when batteries are replaced by renewable, rechargeable sources of energy.

Via
Get the Dwell Newsletter
Be the first to see our latest home tours, design news, and more.