Thank Sottsass for the Most Memphis House Imaginable
In Maui, of all places.
"We had worked with Ettore and all of the Memphis designers since the conception of our company," says Lesley Bailey, who founded the jewelry and accessories brand ACME Studio with her husband, Adrian Olabuenaga, in 1985. She's referring, of course, to Ettore Sottsass, the Italian architect and designer who, after more than 30 years of practice, went on to helm the radical but short-lived collective known for its brash, offbeat furnishings steeped in visual irony and colorful, discordant juxtapositions. "At the time, no one else had claim to that but us," she says, of the Memphis keepsakes still produced by ACME today. Life and business have long intertwined for Lesley and Adrian, who first met at a trade show in Los Angeles and now work and live in Hawaii, where their home—Casa Olabuenaga—is itself an original Sottsass design.
Newsletter
Join the Daily Dose Mailing List
Get carefully curated content filled with inspiring homes from around the world, innovative new products, and the best in modern design
Perched on a 3,400-foot-high hill overlooking Maui and four smaller islands, the home is an abstracted collage of shapes that defy typology: a two-story cluster of white, yellow, black, gray, and green rectilinear boxes and voids punctuated by a red gabled tower and a prefabricated steel garage. Sottsass also designed the interiors, marked with equally colorful and idiosyncratic details, like arched doorways; totemic, custom shelving; a staircase with a cartoonish, oversize bannister; and a series of wall-mounted metal rungs in the master bathroom, which, despite extending from the floor up to the ceiling, is not, in fact, a ladder but simply "too many towel racks," explains Lesley.
Sottsass's use of color and proportion is as whimsical as it is exacting, closely attuned to the experience of the site, with sensorial explorations into the interplay of color, form, and light. "He was our design guru. We listened, we learned. He taught us so many things—things that might sound silly now," says Lesley. "He'd call me up and ask me things like how fluffy the clouds were in Maui. He showed us a different way of looking." Sottsass also designed the landscaping on the property, including a "tiny little forest" that obscures the home from the street level, and a small oblong pond in the backyard, inspired by the shape of a Tylenol pill—a novelty he had discovered on a visit to the United States. "What he saw, smelled, ate," says Lesley, "everything influenced what he produced."
"It was more like going to architecture school than being his client," Adrian says. "We gave him very loose parameters." A longtime fan of Sottsass, he first met his acquaintance by serendipity. Peter Shire, one of few American designers involved with Memphis, had collaborated with Adrian on a number of designs and invited him one day to meet Sottsass at a lecture he was giving in New Orleans. Adrian accepted, with excitement, and one chance sushi dinner later—Sottsass was known for his affable demeanor and for "knowing everyone"—Adrian was invited to Milan to pick up a jewelry collection designed by the entire Memphis clan.
By the time Adrian and Lesley relocated to Hawaii and hatched plans to build a home on a newly acquired half-acre property adjacent to their live/work studio, Sottsass had become not only a designer for ACME Studio but also a dear friend. What may have seemed a bit outlandish a few years prior—commissioning a dream home from their dream architect—now seemed a not unlikely, if suitable, proposition. Adrian casually sent Sottsass the commission via fax (this was in 1989, after all), to which Sottsass merely posed, in response: "When am I coming?"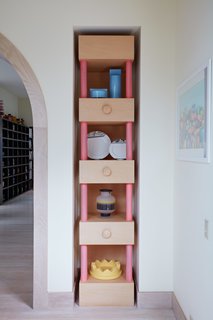 The architect arrived to Maui in September of that year, and though it was his first visit to the island state, he came duly prepared: "He turned up, walking across the tarmac with this little bag containing a model of his design. He handed it to Adrian and said, 'Be very careful. That is your house,'" recalls Lesley. "It brought me to tears when he opened it up and put it on the table." That first model sits, as many of the original design documents do, on proud display in the couple's studio.
"The original model was more to get the conversation started than anything else," Adrian adds. "From that initial idea, it morphed and twisted and pulled in a couple different directions." First designed in metric measurements, it also omitted a few salient details that are typical to an American home—closets, a laundry room, a garage—but much less common to their Milanese counterparts. In one iteration, he had also included what Adrian describes as "a little pagoda," perched upon the roof. The county's local zoning laws considered the addition a third-story structure, despite its diminutive size, so it was cut. The lush, color-blocked terrazzo he had specified for much of the exterior cladding, as well, found generously in Italy but nearly impossible to source locally or from the mainland, proved too cost-prohibitive to import, so the couple opted for stucco for the majority of the structure's exterior surfaces.
The project didn't break ground until 1995, six years after Sottsass's first visit to Maui. "At that point, we had had too many ups and changes," says Lesley,
"so we didn't tell him we were to break ground until the day before it happened"—which just so happened to be Christmas Eve. "He said it was the best Christmas present he could have ever had in his entire life."
Through it all, Adrian worked as design lead for the project, liaising with Sottsass and Johanna Grawunder, an associate at his firm, regularly with daily faxes and phone calls, sourcing and managing contractors, and stewarding the designer's plan through to meticulous realization. "The tendency of local architects or contractors to do it the simplest, most basic way…Ettore was just the opposite," says Adrian, who staunch-ly defended the integrity of his design. "It's like, forget what's been done! Let's do something new that's never been done before. Twisting people's arms to do something different that hadn't been done before was a daily routine for me."
"Even if a mistake came up, he always said, 'A mistake is an opportunity to make something better,' " says Lesley. With a mentality that was as exacting as it was go-with-the-flow, "Each time he visited, he changed something," says Adrian. "He'd walk around the property and add some things." Construction was completed in the next two years, and while Sottsass visited the site three times along the way, he never made it back to Hawaii to see the final structure before he passed away, in 2007.
Despite his death, the couple hasn't completely lost their guru. The domicile continues to evolve in Sottsass's vision—even when a bit of compromise is involved. Though the designer expressly forbade them from ever painting the house, they ultimately decided a fresh coat would do the home proper justice. "In the Maui sun, a lot of the color had faded," explains Adrian. "The black was a light gray, and the red was a washed-out pink." The newly restored hues now shine as brilliantly as they once did, scrupulously sourced on specification with the original coat of colors, with the exception of one key update—the new paints are elastomeric, or rubberized, which hold a lifetime guarantee against fading. Last year, Adrian and Lesley also installed new LED lighting throughout and updated their garage with a docking station for their electric car. "We're using new technology on a 19-year-old house," says Adrian. "But it's our responsibility to protect his legacy, too."
"When we first moved in, we were like kids in a candy store," says Lesley. "And we still live in the house just as it was designed; it still makes us happy every morning. It's got this magical feeling."