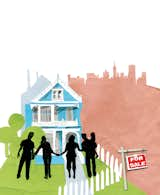 Tenancy-in-Common
You've heard it thousands of times on TV, the radio, and in junk mail—spurious ads delivered with forehead-vein-popping enthusiasm by robot-faced dudes in shoddy suits. Bad credit? Expensive city? First-time buyer? No problem! You—yes YOU!—can own your very own home.
It's easy. We'll show you how. If these cringe-inducing pitches aren't enough to turn you off, the ever-escalating real estate prices are. Is there any hope?
Join Dwell+ to Continue
Subscribe to Dwell+ to get everything you already love about Dwell, plus exclusive home tours, video features, how-to guides, access to the Dwell archive, and more. You can cancel at any time.