Since the fall of the USSR, Tallinn has managed to look unblinkingly to the future while still retaining vital elements of its past. A hotbed of northern art and design encircling a UNESCO World Heritage site, this Baltic City is fast becoming an architect's paradise.
Estonia's capital city is located along the Baltic Sea, and though it may be synonymous with its medieval Old Town, designated a UNESCO World Heritage site, Tallinn is hardly frozen in the 14th century. This thoroughly wired burgh, where citizens easily vote and pay parking tickets online, is a hotbed of technological and design innovation as well as the birthplace of the free Internet phone service, Skype. The old continues to inform the new. The Rotermann Quarter, a former factory district, is being transformed into an attractive mixed-use neighborhood with a contemporary art nouveau style while maintainingits 19th-century merchant motif. Kultuurikatel, an old power station with a dramatic 290-foot-high chimney along the 28-mile-long former industrial waterfront, will soon see new life as a cultural center. The waterfront, an off-limits military border zone during Soviet times, is the centerpiece of development in preparation for Tallinn's becoming a European Cultural Capital for 2011.
Newsletter
Join the Daily Dose Mailing List
Get carefully curated content filled with inspiring homes from around the world, innovative new products, and the best in modern design
map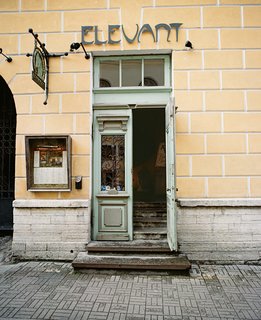 After centuries of foreign rule by the Danes, Swedes, Germans, and most recently the Soviets, Estonia finally regained its independence in 1991 and joined the European Union in 2004. Since then, Tallinn has been finding itself at a frenetic pace. Edgy galleries such as Disaini-ja Arhitektuurigalerii; nightclubs like Stereo, a space age–style lounge; and Asian-inspired restaurants like Chedi and Ö are popping up not far from the defensive towers and Gothic churches of yore. Beyond the Old Town, contemporary architecture—–from the renowned Kumu Art Museum to City Plaza and the new Tallinn Synagogue—–places Tallinn firmly in the 21st century.
With all this unfettered ambition, Veronika Valk, a 32-year-old architect and urban planner, epitomizes the energy and fearless freethinking of Tallinn's talented young populace. Zizi & Yoyo is the architecture firm she shares with her partner. It specializes in unconventional, eco-friendly, and playful design solutions. Valk has designed public buildings, private homes, interiors, landscapes, and mass public events like the Tallinn Festival of Light, where she lit up the dark winter streetscape with balloons and smoke clouds.
With Tallinn set to be European Cultural Capital 2011, what preparations are afoot?
Our firm, Zizi & Yoyo, is collaborating closely with Foundation Tallinn 2011 [to prepare the cultural programming]. Aside from the renovations of Linnahall [an immense Soviet-era concert hall being converted into a conference center] and Kultuurikatel, there's a competition for a new town hall. Next to Linnahall and Kultuurikatel, we'll see a fish market, which would operate as an open-air market during the first part of the day and in the afternoon and evening as a public square for a variety of events. The hydroplane hangars, the first European dome concrete structures from 1916 and 1917, could become arts venues with bars, restaurants, and more. The three-dome structure offers spectacular acoustics for musical events.
With so much building going on in Tallinn right now, which architectural firms do you find particularly inspiring?
Kosmos and KOKO are great. They both stand for innovation. Kosmos did the Rotermann site while KOKO designed the Puppet Theater and also the Fahle House, a crumbling old paper factory that they crowned with a modern glass box. For the childlike Puppet Theater, they chose oversize furniture in which you feel as if you're Alice in Wonderland. Yet it's all done in a delicate and imaginative way that encourages children's creativity. The Fahle House's symbolic value lies in the shiny glass box emerging from the historic limestone walls, as if Tallinn's new talent is bubbling over the edge of the UNESCO kettle.
How do you bring innovation to the Old Town without sacrificing preservation?
Contemporary building is usually forbidden in the Old Town. So I was surprised when the Historic Protection Department approved the striped beach chairs in the landscaped park along Harjumägi. This new playground design covers up the old ruins, which were previously exhibited. The brightly colored chairs and the wintertime ice rink are nice to look at, but they hide the story of previous times. If I had redesigned that space, I would have used glass galleries atop the ruins, combined with lighting that highlights interesting details and draws attention to the spaces below. The most delicate, respectful, and perhaps the only way to introduce architectural innovation in the Old Town is via temporary installations and events, such as the Festival of Light, which lasts throughout the long winter.
You've been called a mobile architect—–where do you like to work?
I enjoy enormously starting my day walking around the city and stopping where there's something happening, taking my laptop from one place to another. I choose different environments depending on the mood  they'll put me in. For example, C'est La Vie is an art deco–style restaurant with background music from the1930s. It's different because most Tallinn cafes play pop music, which is pretty mundane. Background sound should be part of the design. If I need to relax, though, I go there. On a bright summer morning, it's simply brilliant to work on Town Hall Square and prepare drawings to the rhythms of a brass band concert. In the afternoon, I might go to the restaurant Vertigo on the roof terrace of City Plaza.
Where would you go to sample Tallinn's art scene?
Kunstihoone was the only art exhibition space in town until 2006, when the Kumu Art Museum opened. Kunstihoone is now the only major exhibit hall in the city center and they are very particular about what they show. Kumu has quality exhibitions, and director Marika Valk's 15-year struggle to come up with the money to get it done is an amazing story. It shows what a single woman can do on her own. The Estonian Museum of Applied Art and Design shows Soviet-era items. People hate anything with a Soviet ideology, but I think that they should look at it just from a design, not a political, viewpoint. A glass is a glass; it doesn't matter if it's from Soviet times.
One of the joys of old European cities is how walkable they are. What route takes in what you love about Tallinn?
Follow the old fortress walls, enter the towers where you can, and then exit to walk along a park, like Snelli Park. This gives you an extreme spatial experience. First, you are squeezed between walls and the city, and then you exit and you're free. You have two completely different atmospheres. When you're pressed against the wall, you're really at the edge of the city. It's fragile being on the periphery.