The recent fifth edition of Sofia Design Week in Bulgaria's capital city marked a milestone for this international festival devoted to design and visual culture from Eastern Europe and beyond. The theme for 2013 was 'The Balkan Date'—a fitting topic for a region brimming with innovative design ideas as well as cultural expressions that are innately complex. Sofia Design Week's curatorial team felt that is was vital for this year's program to encourage creative exchange between Balkan countries, as well as facilitate a more tangible global presence for regional contemporary design. "When speaking of design on the Balkans, the usual reaction to the topic ranges from embarrassment to bewilderment to a smile. Until recently we were surprised at the growing interest of large-scale design platforms into the region. With its fifth edition, Sofia Design Week counteracts the skepticism and scant availability of information by putting you live in contact with the new wave of Balkan designers. Here and now, Bulgarians, Romanians, Turks, Greeks, Serbs, Kosovars, Slovenians, Albanians, Montenegrins, Croatians, Macedonians, Bosnians and Herzegovians are creating a surprisingly interesting, different and potentially characteristic design. " —Sofia Design Week curators/organizers
We interviewed Adriana Andreeva Dimitrova, one of Sofia Design Week's curators, about how their mission and vision has evolved over the past five years. She shared the following ideas and observations.
Newsletter
Join the Daily Dose Newsletter
Get carefully curated content filled with inspiring homes from around the world, innovative new products, and the best in modern design
Why do you think that Balkan designers are unique in terms of their ability to reference specific cultural/historical phenomena but also find common ground in a design language?
Balkan designers have common roots in terms of natural resources, strong and highly influential folklore, and (for most of them) a burdensome half a century Communist past when the creative scene was entirely devoted to the political regime and its needs. In the case of product design this meant turning it into one and the same mass produced commodity goods ubiquitously available in every household. Now that these years are long gone and over, designers are doing their best to prove and show their individual talent. Yes, it might be said that their approach is still very rough, not refined and missing the link with the manufacturers, but more and more designers are traveling, acquiring training and education, and implementing the best practices into the local community. Balkan design is on the road, developing streadily into a peculiar, multicultural, and colorful amalgam of great ideas and unexpected end results.
What might some of these qualities be? The new folkloric? Humor in the face of crisis? True (sustainable) resourcefulness? The spiritual married with technological empowerment?
Designers are truly resourceful when it comes to combining materials and applying ideas into real products. They might often lack new equipment or extensive training, but they often innovate with imagination and a sense of humor. Many are also working with the most common materials—wood and textiles, i.e. no fancy mixtures of hi-tech surfaces or 3D printing. The new folklore theme appears often in the works of the designers from the region—this is inevitable. The aesthetics and the patterns are peculiar and prove to be a winning decision especially when combined with a contemporary touch—be it a pottery table set from studio Odd Matter, a Croatian-made fashion design piece from the 'In a Nutshell' exhibition, or a furniture piece by Marina Dragomirova, hand-woven using traditional textile techniques (featured lead image in this article).
Why is Sofia an ideal crossroad right now for these design dialogues?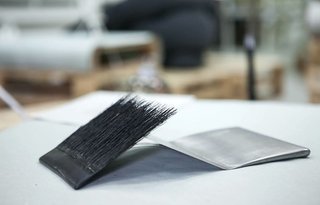 Sofia is quite active when it comes to featuring cultural events. We have established a tradition in terms of supporting the creative industry. We are at an excellent and unique location—on the road between Asia and Western Europe. Sofia Design Week at large strives to serve as a platform which stimulates and supports the development of design professionals in Bulgaria. At the same time the festival aims to present and promote sustainable and sensible practices for a better and beneficial visual environment globally.