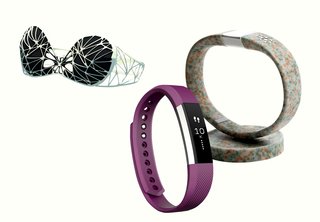 Reshaping Individual Behavior Is Just the Beginning for Wearables. Cities Come Next.
The term "smarty pants" is about to take on new meaning.
Sponge Suit
What if beachgoers could make the ocean cleaner just by playing in the surf? Sponge Suit, a hydrophobic nanocarbon bikini being developed by New York architecture and design firm Eray Carbajo, safely extracts oil-based contaminants from the water around swimmers a little at a time. "It's crowdsourced cleaning," says partner Inanç Eray, adding that car tires and shoe soles could eventually sanitize streets in a similar fashion.
Fitbit Alta
Fitbit activity trackers have sparked new conversations about the body in the built environment. Next up, a dialogue between them: "Wearables will interact with their surroundings within a year or two," says Gadi Amit, designer of the Alta and other Fitbit products. "You might enter a subway station by flicking your wrist. The transit authority would then know how many people are boarding and optimize capacity accordingly."
Worldbeing
Last year, the Carbon Trust tapped Layer Design to create a prototype app and wrist-worn tool to monitor personal energy consumption. The result: Worldbeing, which sketches carbon footprints by collecting data on everything from travel habits to shopping lists. Layer founder Benjamin Hubert believes the gamified interface will encourage people to think twice about their choices, especially "selfish modes of transportation."
Get the Dwell Newsletter
Be the first to see our latest home tours, design news, and more.