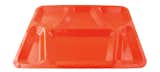 Sing for Your Supper, Kid
Though it was released in 2006, lately I've been appreciating David Weeks' Sing Sing Dinner Plate. Purportedly a copy of the actual food-trays used at the Sing Sing Correctional Facility in Ossining, New York, this orange melamine, TV-dinner-sized food-holder is both jaunty and institutional—which, to a parent's ear, sounds eminently kid-friendly.
There are plenty of similar trays out there for children, emblazoned with the cartoon corporate pitchmen of media powerhouses like Viacom and PBS. But the Sing Sing tray has a few distinct advantages: It's adult-sized (useful if your kid is a big eater, or there are no clean dishes left when you have a hankering for leftovers); it's blissfully cartoon-character-free, and it's more dishwasher-safe than most of those thinner kiddie slop-trays. Plus, every time your kid eats off of it, it's a chance to bond, by sharing tales of how they're eating fish sticks off of the same tableware as Sing Sing denizens Miguel Piñero (of Nuyorican Poets Café fame), and William Tager (of "What's the frequency, Kenneth?" infamy).
Get the Dwell Newsletter
Be the first to see our latest home tours, design news, and more.