Nestled on the Pacific coastline, between Los Angeles's sprawl and the Mexican border, San Diego is a surprisingly design-forward town with a handful of modern masterpieces to prove it.
Architecturally speaking, San Diego is home to one of the crown jewels of the modernist canon: Louis Kahn's majestic Salk Institute for Biological Studies. It would be easy to view the rest of the seaside city as an ode to adobe, aircraft carriers, and staying way chilled out, but its design scene, if small, is vibrant. Surely Kahn's poem in concrete and sunlight deserves serious attention, but it's the local design legends—–like protomodernist Irving Gill, elder statesmen Ted Smith and Kendrick Kellogg, and a roster of young high-flyers such as Sebastian Mariscal, Jennifer Luce, Lloyd Russell, and Chris Puzio—–who are responsible for the warp and weft of the city's rich modernist fabric. It must be said, however, that this burg is still enthralled by all things Spanish colonial (both original and recent), but the principles of modern design are as vital as ever. We asked architect Aaron Anderson, one of the energetic new crop of San Diego designers, to show us around his hometown.
 
Newsletter
Join the Daily Dose Mailing List
Get carefully curated content filled with inspiring homes from around the world, innovative new products, and the best in modern design
If the town's best building is Kahn's Salk Institute, what's second best?
I would agree that the Salk is San Diego's masterwork building. Kahn's expressions of light, order, and stillness are as relevant today as they were when the Salk was built. Those concepts make the building an inspiring and humane workplace. As for the next best architecture, my vote goes to local hero architect Irving Gill's collection of austere residential and public buildings. They are comparable in quality and intention, and like Kahn's, their richness comes from the simplicity of their form: unfussy, supremely functional, with clean, rigid lines that wonderfully complement their rolling canyon or coastal bluff settings. Architects could learn a great deal about the editing of their own ideas by studying the clarity of concept found in both Kahn's and Gill's work.
Perhaps the strangest building in town is the Mormon church near the freeway. It's straight out of Narnia.
The San Diego California Temple along Interstate 5 is definitely an interesting building. I like that a local, relatively unknown architect was used to design it and that he wasn't afraid to address a major freeway where most buildings turn their backs. I appreciate the level of care and detail that went into the church, unlike the trend in many Southern California churches to look more like movie-theater complexes. The Mormon temple harkens a fantastical, contemporary structure that I'm sure is inspiring to its members and to many in the community at large. It's a building that people either love or hate—–which is great for architecture.
Where would you like to see San Diego go in the long term?
I was inspired to put together a plan to renovate University Avenue, one of San Diego's main streets connecting our most culturally diverse neighborhoods, after visiting Abbot Kinney Boulevard in Venice Beach, California. Many years ago, a group of architects, artists, and developers formed the Venice Collaborative to improve the area by creating progressive architecture that is pedestrian- and earth-friendly. It's a huge success. I hope to create a resource where people can see the benefits of creating new, contemporary, sustainable buildings and where they can find architects and builders for their particular projects. Many young designers and architects, like Miki Iwasaki, Mike Burnett, Craig Abenilla, and Jeana Kim Renger, are beginning to redefine the San Diego style. It's an exciting and challenging time.
Petco Park, Qualcomm Stadium, and the airport are all actually in the middle of town. Are we really in Southern California?
the city comes at a large cost. It's the smallest airport of any major U.S. city and has no room for expansion. They say that it will reach capacity within a decade and the only viable options for moving the airport are already taken by the military. I'm a big proponent of the military sharing, trading, or moving their airport, though voters recently disagreed with me. Petco Park is one of the rare baseball stadiums that actually had the redevelopment impact and net economic gain that stadium owners always promise to cities. The Padres, with government help, rehabilitated an underutilized area and redeveloped it, saving numerous historic warehouses. In the process they basically doubled the size of downtown San Diego. Thanks to its architect, Antoine Predock, the building has quickly become an icon. The one significant negative of the project is that it has further walled off the city from the ocean. Along with the Convention Center, designed by the late Arthur Erickson, and the Horton Plaza shopping center, a huge portion of downtown has no visual connection to San Diego Bay. The awkward placement of these buildings is a tremendous long-term mistake.
Barrio Logan seems to be the up-and-coming neighborhood. What's worth checking out there?
Woodbury University's School of Architecture, where I teach, has a terrific new campus designed by Rinehart Herbst. My studio renovated a warehouse space for a group of businesses that includes a company that invented a wind-generating machine. Barrio Logan is also home to the best quick Mexican food: Las Cuatro Milpas.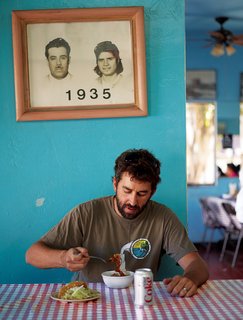 Little seems more architectural than the cakes at Extraordinary Desserts. Do you get any inspiration there?
Extraordinary Desserts was one of Jennifer Luce's first high-profile projects in San Diego, and I happened to be working with her while it was being designed. Owner Karen Krasne's inspiration for her desserts comes from her world travels. As an architect it was extremely interesting to incorporate her thought process in creating new desserts—–texture, transparency, culture—–into the architectural details.