Q&A: Trailblazing Detroit Designer Ruth Adler Schnee
Still working at 95, Ruth Adler Schnee reflects on the important names she's known—Wright, Klee, Eames, Calder—and the equally important career she's led.
Ruth Adler Schnee's design journey spans the birth and resurgence of midcentury modernism. Born in Frankfurt in 1923, she comes from an intellectual Jewish family that escaped Nazism and settled in Detroit shortly after Kristallnacht. She trained in architectural design at several prestigious schools before launching a career in textiles, creating fabrics distinguished by vivid colors and abstract shapes. In Detroit she collaborated with such masters as Minoru Yamasaki, Eero Saarinen, Alexander Girard, Paul Rudolph, and Frank Lloyd Wright and promoted modern design at Adler-Schnee, the studio and housewares store she opened with her husband in 1949. After seven decades of work and numerous awards, the nonagenarian shows no signs of slowing. She continues to design for KnollTextiles and Anzea, and this winter she gave a lecture in Palm Springs on modernism's ongoing evolution.

Newsletter
Join the Daily Dose Mailing List
Get carefully curated content filled with inspiring homes from around the world, innovative new products, and the best in modern design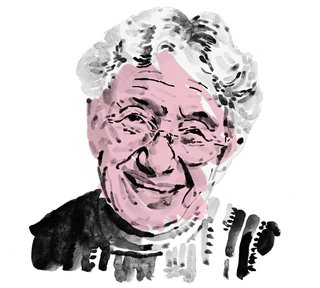 Brilliant color is a hallmark of your aesthetic. Where does your love of color come from?

My mother, Marie, studied calligraphy at the Weimar Bauhaus and with Hans Hofmann. When we lived in Dusseldorf, my parents' Bauhaus friend, the painter Paul Klee, was persuaded to come to the Academy. He moved into our neighborhood. He moved into my life!
In 1939, you resettled in Detroit and went on to study at the Rhode Island School of Design. In 1945, you were one of the first women hired in the office of Raymond Loewy, famous for his designs for Coca Cola, Lucky Strike, and Exxon. How did you get that job?
By winning the Condé Nast Prix de Paris competition. At that time, winners were not sent abroad, because it was during World War II, but we were offered important positions in New York City to further our careers. In the Loewy office, I worked with Minoru Yamasaki, who later commissioned me to specify the interior finishing materials for the original World Trade Center lobby.
During your time in New York, you were offered a fellowship from the Cranbrook Academy of Art. What was your reaction?
At the time, wild horses could not have dragged me from New York to Bloomfield, Michigan. However, my parents' persuasive phone calls—and the one-way train ticket they bought—convinced me to go.
You became one of the first women to receive an MFA degree in architectural design from Cranbrook. Eliel Saarinen was the director at that time. What was it like to study under him?

It was very difficult at first. I was not prepared for it. There was no direction. I was deposited into a studio and was told, "Create." Eliel Saarinen believed that "art and design cannot be taught—they must be learned." However, once I realized there were no limitations except those posed by myself, I produced. It was exhilarating to watch my work unfold.
How did you get started in textile design?
In 1946, I won the Chicago Tribune "Better Homes for Better Living" competition to design a contemporary house and kitchen. I couldn't find textiles for the large glass areas of the house I'd designed, so I resorted to creating my own, with abstract shapes in bold colors. An architectural firm saw my work. They gave me a deposit to supply window coverings for their projects. It set me on a new career path. My husband, Eddie, named my designs as they came off my drafting board and we did the silkscreen printing in our garage.
From 1949 to 1976, your store in Detroit, Adler-Schnee, showcased the latest modern furnishings and housewares. You worked behind the scenes on your textile and interior architecture designs, while your husband handled the business side. What was that like?
It was a true partnership. Eddie had an economics degree from Yale and spent hours on the sales floor, explaining the simplicity of modern design to anyone who came in to listen. But it was not a rose garden. My designs did not sell. We persevered because we were totally committed to our dream. When we visited our friends, Charles and Ray Eames, in California, Charlie told us, "Don't worry. If it is well designed, it will sell." But he didn't tell us it would take fifty years!
Where do your ideas come from?
Design is everywhere—leaves, cityscapes, snowflakes. Threads was inspired by my sewing basket, and Wireworks by the fireplace tools I saw on a visit to Alexander Calder's studio. Germination derived from the stratified forms of the earth and sky, which I saw on our honeymoon to Arizona.
"Eliel Saarinen believed that 'art and design cannot be taught—they must be learned.' However, once I realized there were no limitations except those posed by myself, I produced. It was exhilarating to watch my work unfold." Ruth Adler Schnee
You once stated that courage is a key factor in the creative process. What did you mean by that?
The blank sheet of paper is daunting. The process of creating a new design can take as long as two years to complete to my satisfaction. I can't put it into words, but I know when a design is done. It "sings."
Your work entered a new phase of appreciation in the 1990s, resulting in reissues by Unika Vaev, Anzea, and Knoll. What gives your work such a timeless quality?
I believe that good design is the art of problem-solving. One has to create an aesthetic unity of pattern, color, and texture and to address human needs. If that has been accomplished, it will never go out of style. I'm still creating new designs for Anzea and Knoll, as well as interior architecture commissions for private clients.
How do you feel about the popularity of midcentury modern design today?
I'm happy to have lived long enough to witness its resurgence, but there should be more emphasis on its history and preservation. During my career in Detroit, I worked with the masters. To my great chagrin, I'm the only one around to tell the tales.
You were celebrated at a symposium during Palm Springs' 2018 Modernism Week, titled "Legendary Women of Design." How does it feel to be considered a design legend?

The most gratifying thing is that my work speaks to people today.
"Good design is the art of problem-solving. One has to create an aesthetic unity of pattern, color, and texture and to address human needs. If that has been accomplished, it will never go out of style." Ruth Adler Schnee