View Photos
An Award-Winning Paul Rudolph Midcentury Gets an Eco-Friendly Revamp
You'd never guess this eclectic 1950s home started out as a humdrum municipal garage.
In the late 1950s, acclaimed architect Paul Rudolph transformed an ordinary, oversized garage into a brilliant home, now known as the Rudolph House. While the beloved dwelling in Cambridge, Massachusetts, has remained virtually untouched since winning a Record Houses award in 1960, it was recently treated to thoughtful renovation by Ruhl Studio Architects.
Newsletter
Join the Renovations Newsletter
Get carefully curated content filled with inspiring homes from around the world, innovative new products, and the best in modern design
"We were tasked with bringing the house up to current energy efficiency standards and with reorganizing the house to accommodate the new owners' more contemporary needs, while also respecting the noteworthy original design," explains the award-winning firm.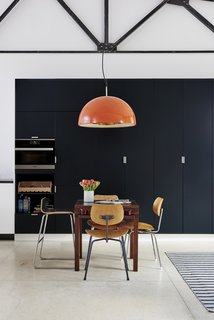 To open the home to the courtyard and enhance natural ventilation, the team redesigned the exterior walls and glazing to include 10-foot-high, triple-paneled sliding doors and windows on the main facade.

Ruhl Studio installed new energy-efficient heating and cooling equipment, including heat recovery ventilation, to assist in bringing the residence up to modern standards. "The result was much greater energy efficiency and thermal comfort for the family," states the team.
The team also reconfigured the home's layout to suit the specific needs of the family. "The kitchen was relocated from an enclosed side room to one sidewall of the main central living area, freeing up space for modernized bathrooms, bedrooms, and studies."

Strategic structural improvements bring the house up to current building standards. "The renovation resulted in a comfortable, modern home that pays great homage to its midcentury past," says the team.