Budget Breakdown: A Cozy Studio Tops an L.A. Garage For $220K
Spurred by a recent state law aimed at easing California's housing shortage, a Los Angeles family turns to architect Martin Fenlon to add an ADU to their backyard.
When California lawmakers made it easier and more affordable for homeowners to build Accessory Dwelling Units (ADUs), it didn't take long for a Los Angeles family to join the effort to relieve the state's housing crisis.
$17,720
Site Upgrades
$16,350
Foundation
$28,800
Framing
$14,435
Windows & Doors
$17,790
Siding
$8,375
Roofing & Exterior Flooring
$1,760
Gutters & Rain Tank
$15,210
Wall Coverings
$1,485
Flooring
$2,235
Trim & Millwork
$7,055
Paint
$3,800
Mechanical
$5,420
Plumbing
$12,975
Electrical
$11,980
General Work
$10,220
Kitchen
$8,325
Bathroom
$36,787
20% Overhead & Profit
Grand Total: $220,722
The clients, a young couple with two small children, turned to local architect Martin Fenlon to create a compact and sustainably minded studio apartment atop their detached garage in Los Feliz, a hillside neighborhood where they have lived for over five years.
Newsletter
Join the Renovations Newsletter
Get carefully curated content filled with inspiring homes from around the world, innovative new products, and the best in modern design
Working with a tight timeframe of just a little over a year, Martin crafted the 350-square-foot addition—named Rodgers ADU after the clients—for a total cost of $220,722. He also enlarged the garage to 400 square feet for extra storage space.
Seven months were spent on the drawing and permitting process, and another seven months were spent on construction.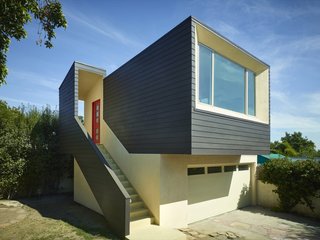 The most challenging part of the project was dealing with the existing garage, which was right on the property line, says Martin. "It was only during construction that we learned the garage had no footings!"
For privacy, the ADU is angled away from the main house, a Spanish bungalow built in the 1920s.
Inside, the light-filled studio apartment consists of an open-plan living/sleeping area and a full bath tucked away in the southeast corner.
"ADUs are exciting because they have the potential to be a small, controlled design exercise that can be turned over faster than larger projects," says Martin, who has designed four ADUs to date.
A lesson learned is that a small building is just as complex as a large one, so the drawing set can't be thorough enough.

—Martin Fenlon, architect