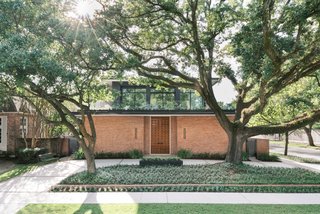 A Gleaming Glass "Tree Room" Grows Out of a 1970s Houston Home
Unicus Developments expands a former clergy house into a light-filled, contemporary family home.
For 49 years, this red brick home in Houston's River Oaks neighborhood served as the parsonage for St. Luke's Methodist Church. The simple yet elegant 1970s structure was designed by midcentury architect George Smart, and when it went up for sale in 2018, it was purchased by Unicus Developments—who worked with Curiel Arquitectos on a stunning renovation.
Join Dwell+ to Continue
Subscribe to Dwell+ to get everything you already love about Dwell, plus exclusive home tours, video features, how-to guides, access to the Dwell archive, and more.