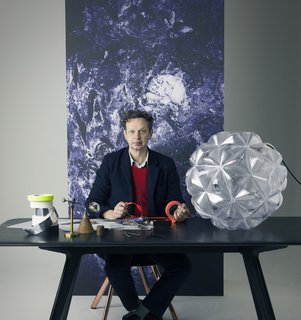 Twenty Minutes With: Tom Dixon
On the heels of two flagship store openings in New York and Culver City this summer, we met with the British design entrepreneur at his new Howard Street space in Manhattan to discuss the changing tide of American design, the importance of retail, and the role of brick-and-mortar in an increasingly digital landscape.
You get what you put in. We've had people here in New York for 9 years, mostly in a sales office capacity, but we've never really had enough room to show a collection properly. There have also been all kinds of complexities to do with UL—because we're mainly a lighting company, to start with—but now that our furniture has become more confident, and our accessories are taking off, it felt like it was the time to have a more direct dialogue with our consumers.
How was this space used before, and what are the variances between this new Manhattan location and the new Los Angeles location in Culver City?
A boot maker was previously in this space, and it's been abandoned for a year or so—they'd moved to bigger premises in Brooklyn.
The LA store is much, much bigger, but this is a toehold in the New York retail landscape, and if it works well then we'll go on to the next one. Right now, we've got a year-long lease on Howard Street, and it might extend a bit longer, but I quite like the idea of testing out different areas and spaces and expanding as we go. This is just the beginning, so the starting pistol is now. It's the big invasion, it's the moment—America's becoming more interested in contemporary design by the day, and it's a vibrant scene here of upcoming brands which is great, and something you didn't really see before.
What do you think accounts for that surge of design interest in the US?
It might be partly due to the tech explosion—people want contemporary campuses, and they don't want them to be conventional offices like before. And we're in a similar moment with the boutique hotel movement, where people are taking matters into their own hands, being a bit more experimental at a smaller scale. I think that American design has gotten a bit frustrated with everything being a bit nostalgic and focused on the midcentury.
"I don't think people are willing to let go of a physical experience—and it's a real shame if they do."
How do you feel the role of brick-and-mortar presence has changed, in an age of digitally driven retail?
It's quite funny to see—I think that a business depends on people really trying stuff out, and I've always been interested in retail, just generally. From my variety of experiences, I think that you need a direct connection to your customer. Here, it's not just a retail store, but also a showroom and a professional service center for architects, designers, members of the trade.
It is interesting to note that some purely online businesses are now desperate to have a physical presence. I don't think people are willing to let go of a physical experience—and it's a real shame if they do.
We're dying to know more about your 2017 collaboration with IKEA, which was announced in June. Can you share a bit about what's to come? To date, we've just seen a small bracket-like component...
Yeah, IKEA has been very excited and open to tell everybody about it, but it's still very much in the works! There isn't anything ready, just one extruded corner of one potential item. It's pointless going any further than saying what we've said already, which is that we're reworking a couple of typologies that we wouldn't actually do ourselves. It's kind of like a "pimp my bed" project [laughs]. But I'll tell you all about it when it's ready, and it is something I want to talk about a lot—next year is full of excitement and collaborations and all kinds of things.
We'll look forward to hearing more about it. How do you think access to IKEA's large infrastructure and production facilities will play into your design approach?
I actually approached them because I had become familiar with their production methods when I worked for Habitat, which was owned by IKEA. So I know the people there, the extraordinary potential, the global scale of the business—it's the only business that's significantly challenged the very local nature of the furniture industry. There's still a lot to learn for me, especially from an entity that's much better at supply-chain logistics.
You started your practice nearly 15 years ago, in 2002, as a self-taught designer. How would you say your work has since changed and evolved?
It's always very different; in French, they say, plus ça change, plus c'est la même chose—the more it changes, the more it stays the same. Obviously, it's significantly different in style and aesthetics from where I started, but the same core interests are there: how things are made, what they're made from. My expressions remain tied to raw materials, and I'm still interested in commerce as I was in the beginning. I've always sold my stuff directly, so I never had a theoretical phase, like most designers who probably go to college, then practice design for three of four years in a commercial vacuum—it's just not what I did. When I started making things, if I couldn't sell them, I couldn't make the next piece. I didn't have the space and I didn't have the money; I was always astonished that I could have an idea and turn it into something that people would find enough value in to pay for it. That's still fascinating to me, and I don't think many people get a chance to do that.
Get the Pro Newsletter
What's new in the design world? Stay up to date with our essential dispatches for design professionals.