These 7 Wisconsin Prefabs Take Modular Design to the Next Level
These seven striking homes are proof of how well prefabs work within the bucolic settings of America's Dairyland.
With its lush forests, serene lakes, and iconic dairy farms, Wisconsin is packed to the brim with beautiful natural sites that are perfect for building a prefab residence or holiday retreat. Take a look at seven of our favorite designs below.
Stevens Point–based Revelations Architects built this 325-square-foot cabin near Lake Superior's Chequamegon Bay as a compact, modular home that allows for flexible furniture arrangements.
Named Experimental Dwelling for a Greener Environment—or simply EDGE for short—the cabin has a minimal environmental footprint, and includes eco-friendly features such as passive solar windows, insulated shutter doors, and rainwater collection.
Newsletter
Join the Prefab Homes Mailing List
Get carefully curated content filled with inspiring homes from around the world, innovative new products, and the best in modern design
Milwaukee studio Vetter Denk Architects designed this eye-catching prefab on the banks of Moose Lake, Wisconsin, as a weekend retreat.
The home was based on an idea presented by the home's owner, who was inspired by a screw-top jug of $9.99 red wine.
Designed by Minneapolis-based architect Charlie Lazor, this 1,600-square-foot summer house on Lake Superior's Madeline Island is mounted on tubular steel posts. It features a screened porch, shed door, and traditional porcelain fixtures that imbue it with a rustic purity.
Another residence by Charlie Lazor—this time set within a field in the Wisconsin woods—is the Weekn'der, which consists of two prefab modules bookending a central stick-built home.
In Spring Green, Wisconsin—not far from Frank Lloyd Wright's famed studio and architecture school Taliesen—Wright's grandson, Tim Wright, and his wife, Karen Ellzey, hired Blu Homes to build their 2,984-square-foot prefab. The home was delivered on two semis and assembled in seven and a half weeks.
In East Try, Vertical Works Inc. built this 2,190-square-foot home with six prefabricated modules. The dwelling consists of LP I-joists floor systems, Raycore wall panels with staggered studs, and a roof trussed with spray foam R-50. The team used special modular transporter trailers, as well as a crane, to deliver and set up the modules on site.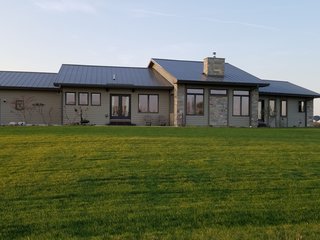 Using their innovative weeHouse prefab system, Minnesota–based Alchemy Architects built this 2,150-square-foot home in Blair, Wisconsin, which includes a geothermal heating system and a slatted sunlit porch.