Prefab, Modular, and Kit Homes—What's the Difference?
Get ready to disentangle the specific modes of construction for homes with ready-made parts.
You don't have to spend your days watching HGTV to know that the world of homebuilding can be complex and riddled with unexpected delays, unforeseen problems, high costs, and even poor construction. As a way of avoiding these problems (and countless others), builders, developers, designers, and architects have developed a range of homes that are composed of prefabricated, modular, or kit-of-parts pieces that can allow for lower costs, faster and easier on-site construction, and even higher quality spaces. But what's the difference between a prefab home, a modular house, and a kit home? Here, we delve into the differences—and similarities—among these manufactured residences.

Prefab Homes
Newsletter
Join the Prefab Homes Mailing List
Get carefully curated content filled with inspiring homes from around the world, innovative new products, and the best in modern design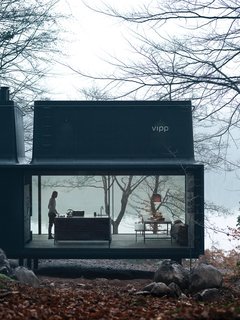 Prefabricated homes, often called "prefabs," refers to a broad range of residences that have been constructed using panels or pieces that were fabricated before their arrival on site. The panels or parts are usually manufactured in standard sizes and sections that will allow for easy shipment on the back of a trailer (in the United States, this means a typical maximum width of 8'-0", a maximum height of 9'-0", and a maximum length of 28'-0") and simple assembly.
The term "prefab" is actually an umbrella term that refers to a range of residences that are built using materials that are pre-assembled, including modular homes (more on these later), panelized homes, and manufactured homes (made out of transportable sections). Prefabricated homes can be mass-produced (resulting in a more cost-effective home because of the multiple uses of a single mold, for example), or they can be custom-built (and probably not as economical), and today are strongly associated with residences that are modern and contemporary in style.
Modular Homes
As we previously mentioned, modular homes are a type of prefabricated home where the components, called modules, of the house are created in sections in a factory and then transported to the home site for construction and assembly. Modular homes are frequently constructed out of individual sections that have multiple possible configurations including being stacked on top of each other, side-to-side, or end-to-end, thus allowing for a variety of shapes and sizes.

With modular homes and other prefabricated residences, the quality of the individual sections is typically quite high, because the repetition of creating the same module again and again reduces errors, and factory conditions can be more controlled than the conditions on an active construction site. Imagine trying to to paint a wall while someone else in the room next door is cutting wood: sawdust can easily sneak in and get stuck to the wet paint, making for a less-than-perfect wall in a brand-new home. This type of situation wouldn't happen in a factory, where pieces can even be outfitted with HVAC and lighting fixtures in place.
Kit Homes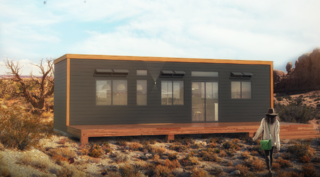 Finally, kit homes are a specific type of prefabricated home that experienced tremendous popularity in the first half of the 20th century and are now a growing option in the prefab home sector. Kit homes have also been known as mail-order homes or catalog homes because of their early production by manufacturers like Sears and appearance in their catalogs. Potential purchasers were sent the Sears catalog in the mail, which featured, among other products, a range of kit homes in varying sizes, styles, and floor plans—from small, humble bungalows to larger, more elaborate Colonials, all at a specified price. Interested parties would mail in money and then receive a kit that would contain all of the materials needed to build the home.

Kit homes aren't a typical prefabricated home in that large components aren't constructed in an off-site factory, like they are with modular homes. Instead, individual pieces are pre-cut to the exact specifications needed to build the home and numbered according to building guides—almost like IKEA furniture, if the pieces were numbered!—so that no cutting or measuring is required on site, saving time and money through saved labor costs. Today, kit homes aren't nearly as popular as they were one hundred years ago, but there has been interest in reviving this classic way of building homes, and many kit home companies now offer options with renewable energy and eco-friendly options.