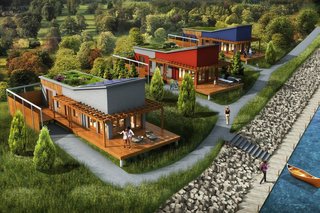 10 Kit Home Companies to Watch
In the past, talk of a kit-built house would sometimes conjure images of a tumble-down, rustic timber cabin. However, today you can create an ultra-modern look with natural materials by going the route of a prefabricated kit home.
Many companies will deliver all the materials necessary for construction to your site—either off-plan, or working specifically to your custom wishes. Some will even help with permits and all the hassles of building your own home. Here are a few companies that can help you realize your dream of building your own home.
Join Dwell+ to Continue
Subscribe to Dwell+ to get everything you already love about Dwell, plus exclusive home tours, video features, how-to guides, access to the Dwell archive, and more.
Exclusive Home Tours
Unlock premium stories only available to subscribers.
Visit the best modern homes in the world with video tours, original photography, and more.
The Dwell Archive
Dig into years of Dwell magazine.
Browse by date or issue on any device, and check out our curated rotation of favorite stories.
Sourcebook
The definitive list of products and professionals.
Explore our essential resource for finding everyone—from designers to brands—featured in Dwell.