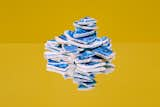 Found Pottery Pieces Inspire a Washington Designer to Consider the Shelf Life of Our Existence
Chelsea Minola, founder of design studio Grain, keeps the remnants as a reminder of time spent with her family and the future she and her husband can help create for them.
When the big earthquake comes, and with it a tsunami, I have a list of things I'd take with me in my go bag. Obviously the main thing is just to get out of the house with my husband and kids as fast as possible. But if we have 10 extra minutes, I'd grab my grandmother's jewelry, a couple pieces of art, and these blue-and-white pottery shards. I think they might have been thrown overboard around a century ago by lumber ships coming and going from Bainbridge Island, where my husband and I live and have our design studio, Grain. The island used to have one of the largest sawmills in the world.
Join Dwell+ to Continue
Subscribe to Dwell+ to get everything you already love about Dwell, plus exclusive home tours, video features, how-to guides, access to the Dwell archive, and more. You can cancel at any time.