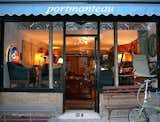 Portmanteau
A wall of cinderblock, tiny windows, layers of dust and a steel door: for some, this is a typical Manhattan apartment. For others, it's the scene before the murder scene in a horror flick. For Jim Lanning, it was an opportunity beckoning. He adopted the space, gave it six months of love, and it's now Portmanteau: a paradise of whimsically-curated furniture and charmed objects that, together, feel like a well-loved collection of old stories.
Gracing the small space are gems like the Fritz Hansen leather armchair designed for the '74 Stockholm airport; an antique stencil wheel, once used to stencil prices on objects; and a pair of American anonymous 1920s chairs that reek of Fitzgerald. One thing about Lanning's approach: he refinishes the upholstery of these found objects himself, but keeps the wood as-is and worn. The effect is that of pieces well-loved. 

Inventory changes weekly. The store doesn't have a website, so you'll have to stop by in person. Portmanteau is located at 81 Grand Street, Brooklyn, New York 11211. 718-384-0777
Get the Dwell Newsletter
Be the first to see our latest home tours, design news, and more.