Overlooking a Niemeyer Masterpiece, This Flat is Filled with Brazilian Modern Gems
A São Paulo aerie showcases a collection of Brazilian modern classics—with a priceless vista to match.
When a husband and wife from São Paulo, Brazil, were looking for a new residence in their hometown, they articulated a big wish—to find a spacious apartment in which they could comfortably live, in a calm neighborhood with small houses and quiet streets. Fortunately, they found something that satisfied all of those requirements, and much more, in a property located near one of the most iconic spaces in the country: Ibirapuera Park, designed by architect Oscar Niemeyer and landscape designer Otávio Augusto Teixeira Mendes in commemoration of the city's 400th anniversary, in 1954.
The best feature, though, is one they hadn't anticipated. Overlooking Ibirapuera, the apartment boasts one of the best views of the park imaginable, and at a distance that offers an all-encompassing view of the national gem, including the green spaces, the Oca dome, Ibirapuera Auditorium, and the winding Marquise, a covered pathway that links various structures, such as restaurants, facilities, and the São Paulo Museum of Modern Art.
The original division of space inside the nearly 5,000-square-foot apartment didn't fit their lifestyle, however. Wanting to take advantage of the large interior while creating a cozy ambience, the couple, along with their 25-year-old son, enlisted FCstudio, a firm helmed by Flavio Castro, a young architect who had designed houses for a few of their friends.
Touched by the view, Castro decided to provide different ways of navigating the space to maximize vistas from all corners of the home. Integrating separate areas into a central living room, he took down several walls and removed the windows from an adjacent veranda. He then defined a few stations such as a dining area and a media center with a series of furnishings—including a blue Fergana sofa by Patricia Urquiola for Moroso—placed into clusters. Custom built-ins, like a horizontal divider made of Brazilian walnut, now gently structure the space. Placed between the living room and veranda, the wall panel is a tribute to Alfredo Volpi, a Brazilian painter and prominent modernist; its design—a modular screen made up of aligned triangular shapes on both sides—is a reference to his works, which are marked by warm color palettes and geometric patterns.
A lover of Brazilian modern design, the wife shadowed Castro's team throughout the process, test-driving configurations at various stages along the way. From the outset, she voiced her desire for a home that was wholly contemporary, yet also warm and inviting. To keep the space from feeling like a sterile renovation, the family brought with them venerable and beloved pieces from their previous home, including Sérgio Rodrigues's iconic 1961 Mole armchair, which they placed in their new home office.
For formal gatherings, the family likes to entertain guests in the dining area, furnished with a table by Brazilian designer Claudia Moreira Salles and Marta chairs by Aristeu Pires, also a Brazilian designer. Above, a series of hanging Torch pendants by Sylvain Willenz illuminates the space. Adjacent to the dining area, a transparent, custom, floor-to-ceiling wine rack serves as another subtle partition for the open plan; a lunch room is situated on the other side of it. Near the opposite end of the dining room is the space that's most cherished: a small living area with two pairs of prized armchairs, the Isa by Jader Almeida and the Paraty by Sérgio Rodrigues. The family often lounges there, appreciating the night view of Ibirapuera while enjoying a glass of wine by the intimate light.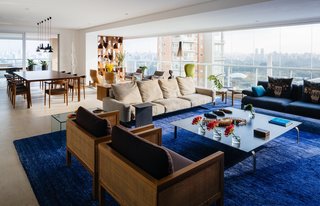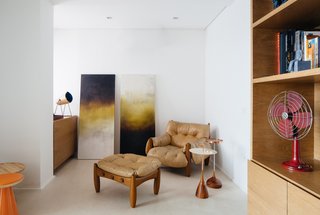 The veranda, which the family uses as the recreation area, is integrated with the rest of the apartment through a series of sliding glass doors. The husband travels frequently for business, but loves staying at home and hosting friends and family. His favorite hobby is cooking pizza, and, as luck would have it, the home already included a pizza oven and a barbecue grill, so he naturally opted to keep them intact. To create a social dining experience, Castro also designed a combined cooking and dining station called Pau Pedra, which translates from Portuguese to "wood stone." Condensing multiple functions into one furnishing, the piece combines a 35-inch-tall stone table—suitable for cooking and barstool seating—with a wooden dining table that comfortably seats nine. Carbon chairs by Bertjan Pot and Marcel Wanders line the lower table.
Elements of Ibirapuera Park provided a number of inspirational points for the apartment's interiors. Throughout, a palette of green and blue hues echoes the lush, Edenic scene that fills the windows—a design move exemplified by Castro's choice to display Jaime Hayon's Ro chair for Fritz Hansen against a backdrop of trees in the park. Hugging the marble floor, a large rug by Kamy Maison is warmly reminiscent of the sky's blue tones when the sun is setting.
The service area of the apartment also provides good views and entertainment. Through the large windows of the kitchen and laundry room, the residents can see a couple of southern crested caracaras—a type of falcon found in parts of Brazil and throughout central and southern South America—in their flights around the antennas of the tops of the buildings and the trees of Ibirapuera Park.