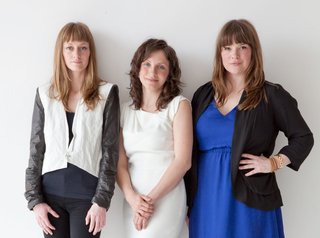 New Furniture from Egg Collective
Though Egg Collective opened its wood shop in Brooklyn's Navy Yard in 2011, the of-the-moment design studio has been incubating for many years. Its three founders—Stephanie Beamer, Crystal Ellis, and Hillary Petrie—met when they were freshman undergraduate architecture students at Washington University in St. Louis, Missouri, and have been collaborating ever since. "Our friendship and our working relationship have always gone hand in hand," says Ellis.
After graduating in 2006, they disbanded to pursue different professional interests but kept in contact. During the interim period between finishing school and opening Egg, the women each honed different, and complementary, skills: Beamer worked for a series of fine furniture makers, Ellis went to RISD to earn her MFA in sculpture, and Petrie honed her eye for detail by working for a custom millwork and fabrication studio.  "We each have different skills, but work together now and compliment each other nicely," says Petrie.
"We became more educated. You get older and see more things and you realize what you're passionate about," says Ellis about the hiatus. "When we first began to make furniture we were looking at Droog and designs that were a bit tongue-in-cheek conceptually," says Ellis. "Now we're interested in making a piece of furniture you want to hold onto rather that creating something that just makes you smile when you look at it."
Get the Dwell Newsletter
Be the first to see our latest home tours, design news, and more.