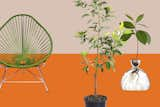 Yes, National Avocado Day Is a Thing—Here's How We're Celebrating
This July 31, take your appreciation of the tasty green fruit to the next level.
Avocado-lovers in the United States have botanist and plant explorer David Fairchild to thank for introducing the beloved fruit-bearing tree, which is native to Mexico and Central America, to the country in the early 1900s. (If that fact intrigues you, I highly recommend this engrossing biography on the globetrotting food explorer.) In celebration of the avocado in all its green goodness, we bring you some themed home decor, clothing, and other accessories that honor the fruit—also called an "alligator pear" or "butter fruit"—that people around the world love to its core.
Get the Shop Newsletter
Smart shopping for the design obsessed. Find what you love in our expertly curated selection of finely crafted home, office, travel, and lifestyle products.