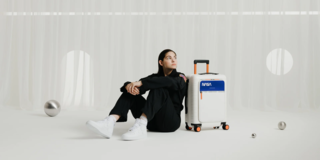 18-Year-Old NASA Cadet Alyssa Carson Co-Designs Luggage For Outer Space
To honor the 50th Anniversary of the moon landing, Horizn Studios teams up with astronaut-in-training Alyssa Carson on a space-worthy suitcase.
In the very near future, folks will be able to "ooh" and "ahh" their way through space—and they'll need somewhere to keep their toothbrushes. Berlin–based Horizn Studios has partnered with NASA and astronaut-in-training Alyssa Carson—who's dedicated her life to space exploration and is training for a mission to Mars in 2033—for the forward-thinking re-design of their M5 cabin luggage.
It's decked in NASA's smart-looking white, blue, and orange, and it features an aerospace-grade polycarbonate hardshell, a commemorative ID tag, 360-degree spinner wheels, and a removable smart charger with enough power to recharge an iPhone a couple of times. Though baggage size limitations on passenger space shuttles are unclear at this point, the 33-liter design is a nice fit for overhead bins on standard airliners.
With passenger space travel to the Moon and beyond right around the corner—flights via Virgin Galactic and Blue Origin are imminent, however expensive—Horizn Studios and Carson have developed an even more advanced roller called the Horizn ONE, which addresses challenges facing space-bound holidaymakers.
The suitcase can stick to surfaces in zero-gravity scenarios, includes supercapacitors for energy storage and wireless charging, and has fingerprint security with smart-screen technology to interface with loved ones back home. It features a vacuum storage system for efficient packing, can fold flat when emptied, and has an antibacterial compartment that serves as a miniature waterless washing machine, neutralizing odors and germs in clothing. At a sticker price of $50,000, it'll likely be a bargain compared to buying a seat on a shuttle.
Alyssa Carson has completed over 19 space camps in multiple countries. She's also the only one to have completed the NASA Passport Program, and she holds a certification in applied astronautics—so the collaboration with Horizn Studios is a no-brainer. "Alyssa Carson embodies our core values of unstoppable curiosity, daring creativity, and open collaboration," says Horizn.

The Limited NASA Edition M5 suitcase is available now for about $800, and the Horizn ONE won't come out until 2030, just before the first manned—or in this case, womanned—mission to Mars.
Related Reading: 12 Futuristic Homes That Look Like They Belong in Outer Space
Get the Dwell Travel Newsletter
Start exploring far-flung design destinations, the newest boutique hotels, and well-designed bars and restaurants perfect for the modern jetsetter.