This Elegant Californian Prefab Minimizes Site Disturbance
Thanks to its modular construction, a modern retreat treads lightly on the pristine landscape.
When Clive McCarthy and his wife, Tricia Bell, were on the hunt for an escape from San Francisco, they found the perfect spot for their second home three hours north of the Bay Area on a 64-acre site in Willits.
With an elevation of 2,300 feet and dramatic valley views, the landscape was primed for a dramatically different style of housing from the couple's main residence—a renovated industrial space in the Mission District.
Newsletter
Join the Prefab Homes Mailing List
Get carefully curated content filled with inspiring homes from around the world, innovative new products, and the best in modern design
Minimizing site disturbance was a priority, and so the duo tapped KieranTimberlake to design their retreat—which they would soon call High Horse Ranch—after learning about the Philadelphia–based firm's work with prefabricated housing.
Using off-site modular construction to minimize waste and ensure precision, the architects crafted a 2,580-square-foot main house with two secluded 290-square-foot guest cabins.
"The owners were struck by the dramatic experience of approach and arrival, where the edge of a cliff falls away and reveals a panoramic view of the forested valley below," explains KieranTimberlake of the couple's desire to recreate the initial discovery experience.
"Accordingly, the design was driven by their early vision of the guest experience: a long, climbing drive; a short, shaded walk to a sheltered welcoming area; and then, upon entering the house and rounding a corner, taking in the view."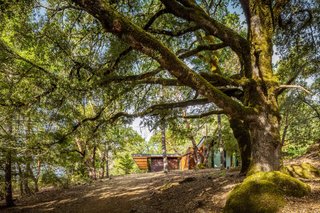 Shop the Look
Project Credits:
Architect: KieranTimberlake
Builder / General Contractor: Buckeye Construction, Moderna Homes
Structural Engineer: CVM
Civil Engineer: Adobe Associates
Lighting Design: Sean O'Connor Lighting
MEP Engineering: Engineering 350