Modern Lilong House Renovation in Shanghai
Seeking a stronger connection with his adopted city, Edoardo Allegranti revamps a lilong house in China's bustling municipality.
For the past eight years, Edoardo Allegranti has worked in the shipping business in Shanghai. Until recently, the young Italian executive lived in a high-rise building reserved for foreigners—just like the majority of international expats working in China today. Apartments in these buildings are typically identical to one another and come fully furnished. Residents take the elevator down to the basement garage, the gym, or the supermarket, where they can buy food from their home countries. Allegranti sought a less cloistered life. "I wanted to get back in touch with real life, to no longer feel so isolated," he says. He dreamed of living among locals in the center of the city, of strolling through streets buzzing with activity, and of shopping in tiny neighborhood stores. But what he missed most of all was having a home of his own that he could furnish and decorate as he pleased.
A friend introduced Allegranti to fellow Italian Nunzia Carbone. Carbone, an interior designer and architect, opened her studio, Dedodesign, in Shanghai in 2001. Together they set about looking for a new home for Allegranti. They were especially interested in finding a lilong house. The words li (neighborhood) and long (lane) refer to an urban housing form that melds features of traditional southern Chinese courtyard dwellings with those of British row houses. Lilong districts—blocks of attached houses linked by pedestrian alleyways and set back from the city's main thoroughfares—are among the most distinctive areas in Shanghai. Though intimate and neighborly, the districts still afford residents the privacy and seclusion of living in one's own multistory home.
After Allegranti and Carbone had searched for months, visiting dozens of houses suggested by friends and local agencies, they finally found Allegranti's dream home: a brick row house from the 1930s. "Although it had neither a bathroom nor heating, the moment we saw the place, we both thought, This is the one," Carbone recalls.
The house is situated in a private setting off Yuyuan Lu, one of Shanghai's most enchanting older streets, with mature trees surrounding the entrance to the lane. This was what Allegranti had been looking for. "The area feels both very urban and at the same time rather like an idyllic 19th-century village," says Allegranti.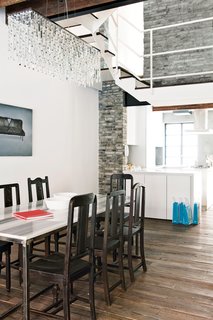 When he bought the house, it was in a dilapidated state. It was divided in two by an enclosed staircase, and all the rooms were dark, dirty, and humid. But for Allegranti and Carbone, the vision was clear: The three individual stories as well as the two mezzanine levels of the 2,150-square-foot unit would be connected by a new steel staircase, and every room would have a view of the neighboring room, even those situated on a different level.
"I felt very excited at the prospect of working with such fantastic materials and making them fit contemporary needs," says Carbone, who worked on the renovation for almost a year with her colleague architect Luigi Arcadu and their Chinese associates. After the foundations of the house had dried out, the roof had been rebuilt, and the plumbing and supporting structures had been renewed, a new problem arose: The load-bearing walls of the building were just four inches thick. Even though Allegranti craved proximity to his neighbors, soundproofing the structure was critical. "We Italians are very lively, we love family life, and we enjoy eating and cooking. But the Chinese beat us at all these things by miles," he says.
The new design emphasizes the house's original bones, exposing the walls of gray brick—some still bearing their maker's mark—and the wooden ceiling beams. The designers restored the old metal-framed windows. The floorboards were made of reclaimed antique door frames, salvaged "thanks to the recycling skills of the local artisans," says Carbone, who works with a team of craftspeople with whom she communicates in Mandarin Chinese.
Other Chinese elements, including some magnificent old doors from a walled courtyard's front gate, are combined with contemporary elements inspired by Chinese interior decoration of the past. One such piece is a long custom-made cabinet between the levels of the master bedroom and the master bathroom. It has silk door panels decorated with a hand-painted green dragon, the symbol of power and strength. "I love to play with Chinese symbols, with lights and surprises," says Carbone of her approach. The guest bathroom, situated on the staircase landing, is separated from the living area by a translucent glass wall—which turns the room into an oversize lamp when the light is switched on. In the main bathroom, the partition between the shower and the toilet is made of yellow glass and decorated with Chinese ideograms.
As is typical of Shanghai houses built in the 1930s, Allegranti's home has two entrances. The official entrance in front is an iron gate that leads to a tiny courtyard and, beyond that, a dining room. Immediately behind the kitchen is the rear entrance, next to which is an outdoor washbasin. From April onward, when the weather warms, such washbasins become the focal point of everyday life in China. People use them for washing vegetables and doing the dishes, for combing their hair and brushing their teeth. But above all, they are the hub of loud and lively conversation.
Allegranti is still amazed at the relaxed way in which the Chinese lead their private lives outside their front doors. "You frequently have extended families of up to 25 people living in one house," he explains. "They don't just go outside to brush their teeth; they also argue out on the street, where they can yell at each other without inhibition." Whenever this happens, he does what everybody else does: He ignores the spectacle and gives his neighbors a friendly nod or enjoys a pleasant chat. And when he goes back inside his house, he feels like he's exactly where he wants to be—right at the heart of things.