Modern Home in a California Resort Town
A storied 1980 party house enters a mellower chapter of intimate gatherings filled with canapés, crooners, and cocktails.
Newsletter
Join the Daily Dose Mailing List
Get carefully curated content filled with inspiring homes from around the world, innovative new products, and the best in modern design
Every third weekend, Doug Paton and Stacey Chapman Paton leave the bustle of San Diego and head over to their second house at the foot of the craggy Santa Rosa Mountains in the idyllic little Anza-Borrego Desert resort town of Borrego Springs. The open-plan house was built in 1980 in a style that references Le Corbusier's white planes and deep overhangs. Fronted by a swimming-pool courtyard that might have been borrowed from Luis Barragán if he suddenly eschewed color, the small abode is a low-slung stucco love letter to late modernism.

The home's creator, Maurice "Maurie" McKenzie, built only a handful of structures, including offices for his family's duplicating-machine business and houses across California in Mendocino, Pasadena, and San Clemente, where he lived until his death in 2008. Even in 1980, McKenzie's design was radical among Borrego Springs's Spanish- and Southwestern-style structures. Its 2,500-square-foot layout is perfectly symmetrical: a tennis-court footprint with the living room and kitchen in the center and identical bedroom suites at either end.

In the home's early years, McKenzie and his wife were not only the talk of Borrego Springs—San Diego County's more relaxed answer to Palm Springs—they were consummate, even legendary, hosts. "The daughter of the man who owned the liquor store here told us that when she was younger, she used to deliver a lot of booze to this house," says Doug. "Many neighbors told us there were some wild parties here," adds Stacey. "There are tales of Maurie being spotted from the golf course walking around the house naked. People would fall in the pool a lot at his parties. It was pretty crazy."

Stacey, whose parents used to have a condo just across the golf course from the McKenzie house and now own a home in the same neighborhood, has been coming to the Borrego Springs area all her life. But the house she used to see from the condo particularly bewitched her in the 1990s, more than a decade after its glory days as party central. By that time, McKenzie was a far less frequent visitor to Borrego Springs and the house went largely unused. Stacey couldn't shake it, however, and recruited Doug, with whom she runs her family's commercial kitchen appliance repair business, to help investigate.

"We used to sneak in—which was quite easy because the gates were stuck open and no one was around—and sit in the courtyard and say, 'Wouldn't it be nice…'," says Doug, who met Stacey more than 30 years ago while stationed in San Diego with Great Britain's Royal Navy. Stacey began writing to McKenzie, expressing her desire to buy the place and after several years of letters, phone calls, and visits to San Clemente, McKenzie finally agreed.

Doug and Stacey, who are empty nesters with their daughter Jennifer off working and traveling in central Asia, have ushered in the second act of entertaining in the house, hosting intimate gatherings with family, friends, and fellow modernists. "I remember Maurie telling me, 'I built this house the way I wanted it—I wanted people to come party in it, but I didn't want them to stay too long,'" Stacey says, laughing. "I think when we bought it in 2003, the house breathed a heavy sigh of relief," says Doug, who notes that he and Stacey's gatherings tend to start around sunset and are limited to around a dozen guests.

Stacey, who is preternaturally chic and often decked out in a festive, floor-length vintage hostess gown that complements the bossa nova she favors, has left McKenzie's vision intact, save for a few necessary upgrades. The carpet is original, as are the clean- lined camel-colored sofas that were made for the house. The Japanese-style pocket doors separating the main room from the bedrooms are lined not with delicate rice paper but another of McKenzie's clever visions: industrial-strength craft paper that has withstood decades of visitors with no rips or punctures.

Stacey has incorporated pieces she grew up with (a diaphanous glass decanter she sits with in a childhood photo, a bold, early-1960s ceramic lamp in a sea of nubby turquoise and blue) and objects left in the house (a 1955 copy of a faceless Cycladic bust and tiny Roly Poly cocktail glasses etched with MWM—Maurice Wyeth McKenzie—in which Stacey serves her signature cocktails) into the groovy interior. The low teak cabinets that line the main room are festooned with Stacey's fantastically well-shopped collection of California pottery—for which she has an impeccable eye—found at San Diego flea markets and a variety of antique stores.

The pair of bedroom suites best reflect McKenzie's penchant for indulgence. In the master bedroom, the bed is tucked into a recess in the center of the room flanked by two low stairs and fronted by a teak headboard and cabinet. "Maurie told me he saw this in a 1977 issue of Architectural Digest and wanted to replicate it," says Stacey. The guest suite is an exact copy, but overnight visitors are treated to the original sunken waterbed. "We weren't sure about the waterbed, but our daughter made us keep it," says Stacey. Both bathrooms retain their shallow tiled showers contained in skylit rooms without doors.

Though perhaps less used than in years past, the kitchen cupboards are still well stocked with liquor, now chosen for the cocktails Stacey has perfected (the Comet, the Hey Hey) or invented (the Borrego Blue and the Gimlet Girl). The worn kitchen counters were replaced with creamy-white Corian countertops "of the era in a color from the time," says Stacey, who also made a centerpiece of the wide kitchen wall by covering it with serene blue-gray tiles from Heath Ceramics meant to conjure a cooling waterfall.

But the visual and gustatory highlights merge in Stacey's collection of vintage cocktail shakers—a must, she insists, for creating the perfect drink and atmosphere. "You've gotta whip out your shaker to get a drink right," she says. And so she does every third weekend, amid McKenzie's perfectly retro backdrop, before she and Doug sit in the same spot in the courtyard like they did years ago before the house was theirs, and toast to the moon rising over the mountains just beyond. "It's all part of the theater," he says.
Shaken, Not Stirred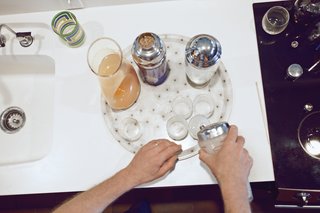 "I've always collected vintage barware and cocktail recipe books," says Stacey, who is so spoiled by her own from-scratch cocktails that she rarely has one outside the house. "They're never cold enough," she says. Ever on the lookout for drinks in which she can add Borrego's famous lemons, limes, and grapefruits, Stacey offers up a few favorites, including the Comet, invented in 1952 to commemorate the maiden flight of the de Havilland Comet jet airliner from London to Johannesburg; the Hey Hey, which was popular in the 1940s; and the Mainbrace. To soak up the libations, Stacey forks over her favorite victual: smoked salmon on pumpernickel. "It's all about the alchemy and chemistry," Stacey says.

Mainbrace Cocktail
1 ounce gin
½ ounce Cointreau
½ ounce grapefruit juice

In a cocktail shaker, shake with ice, then strain into chilled cocktail glass.
Stacey's recipe is taken from the 1963 cocktail guide Shaking in the 60's by Eddie Clarke.

Salmon à la Stacey
Pumpernickel points
Thin-cut smoked salmon
4 tablespoons Dijon mustard
1 teaspoon dry mustard
2 tablespoons sugar or agave nectar
2 tablespoons vinegar
1⁄3 cup olive oil
1 large fennel bulb chopped or one bunch dill Combine Dijon, dry mustard, sugar or agave nectar, vinegar, olive oil, and chopped fennel or dill in food processor to make mustard sauce.

Place a piece of smoked salmon on pumpernickel point; top with mustard sauce and garnish with fennel or a sprig of dill.
Stacey's Playlist
"I play music 24 hours a day," says Stacey, who has more than 52,000 songs in her digital library. Here, she offers her top-15 swinging cocktail-party songs.

1. Lujon Henry Mancini, Mr. Lucky Goes Latin
2. Soul Bourgeoisie Jazz Crusaders, Chile Con Soul
3. Movin' Wes, Part 1 Wes Montgomery, Movin' Wes
4. Jive Samba Sarah Vaughan, Viva! Vaughan
5. Captain Bacardi Antonio Carlos Jobim, Wave
6. Fried Bananas Cal Tjader, Solar Heat
7. The Girl from U.N.C.L.E. Dave Grusin, The Girl from U.N.C.L.E.
8. 13 (Death March) Jimmy Smith & Wes Montgomery, Jimmy & Wes: The Dynamic Duo
9. Peel Me a Grape Anita O'Day/Cal Tjader, Time for Two
10. Chitlins Con Carne Kenny Burrell, Midnight Blue
11. Alfie's Theme Differently Sonny Rollins, Alfie (soundtrack)
12. The Cylinder Milt Jackson, The Ballad Artistry of Milt Jackson
13. Un Grão de Areia Kenny Clarke & Francy Boland Big Band, Three Latin Adventures
14. Soul Sauce Shirley Scott, Latin Shadows
15. Fuji Cal Tjader, Several Shades of Jade/ Breeze from the East