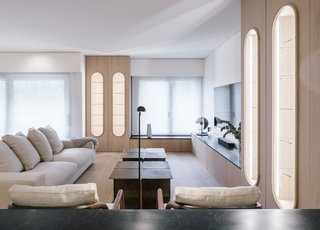 This Revamped Apartment in Spain Proves That Storage Can Be Sexy
To smooth out a compartmentalized home in San Sebastian, Mecanismo fashions custom cabinets and furniture with clean lines and alluring curves.
By Ondarreta Beach in the coastal town of San Sebastian, Spain, Mikeletes was a dark and dated apartment that suffered from low ceilings and a long hallway with maze-like connections to compartmentalized rooms. However, a recent renovation by Spanish firm Mecanismo, founded by Marta Urtasun and Pedro Rica, transformed it into a light-filled flat with the use of simple materials—primarily wood and stone—and intriguing geometry, with the kitchen playing a starring role.
The firm reorganized the unit, moving the kitchen behind a glass wall. The kitchen now serves as a transition between public and private spaces—visually connected to the living room and dining room, yet separate from them. Inside, the space centers around a marble-topped island that features ample storage, and an area dedicated to laundry.

Mecanismo also created several pieces of multifunctional furniture to help organize the 2,152-square-foot apartment. "We designed the furniture as architectural elements with a functional contribution to the house, and not just as a decorative pieces," explains the firm.
Some pieces, such as the storage cabinet that lines the entrance of the home, substitutes for traditional elements that are less functional—say, a partition wall. One of the firm's favorite customizations is an oval breakfast table whose chairs are discreetly stored when not in use.
Shop the Look
Get the Renovations Newsletter
From warehouse conversions to rehabbed midcentury gems, to expert advice and budget breakdowns, the renovation newsletter serves up the inspiration you need to tackle your next project.