View Photos
BIG's €60 Million MÉCA Culture and Arts Center Just Opened in Bordeaux
The Bjarke Ingels Group–designed MÉCA opens in Bordeaux, France, with toasts, a grand tour, and a rooftop party.
Back in 2006, Alain Rousset, president of the Regional Council of Aquitaine, called for a creative hub that could host three key local institutions: ALCA (an agency for books, cinema, and audiovisuals), OARA (a live performing arts organization), and Frac Nouvelle-Aquitaine (a funder of contemporary art). Now these three organizations have a unified home: the Maison de l'Économie Créative et de la Culture en Nouvelle-Aquitaine.
Newsletter
Join the Daily Dose Newsletter
Get carefully curated content filled with inspiring homes from around the world, innovative new products, and the best in modern design
"Artists will now have a great stage for creation, at all times of the year, for residencies of three weeks in length," says Director of OARA Joel Brouch. "Complementary studios will allow for research and experimentation, and the artists in residence will enjoy exceptional conditions. They'll also be paid for their projects."

On-site facilities include an exhibition hall, galleries, a cinema, production offices, and creative studios, to name a few. The grounds also feature a cafe/restaurant called CREM, a terrace, and riverfront views, all of which are available to artists in residence and the public alike.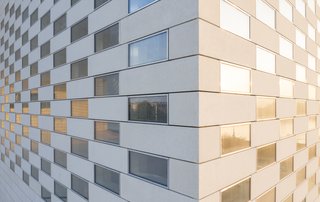 The multilevel, 60,000-square-foot building is a significant development in a highly visible part of town—and President Rousset and the city of Bordeaux carefully plotted the course of its creation. They set up a competition between high-level architectural firms including Bjarke Ingels Group (BIG), W-Architectures, Flint, and SANAA.

BIG surfaced as the clear choice for the project. "Bjarke Ingels has fully understood the complexity of grouping the three cultural institutions, the management between professionals and the general public, and the insertion of the building in the city," Rousset said at the opening ceremony.
The building is an angular spaceship wrapped with moon-colored concrete panels. As you drive by the site—where once stood an old slaughterhouse—on the banks of the Garonne river, the building shape-shifts, giving it a kinetic and energized presence.

MÉCA, a word that obviously nods to a certain holy meeting place, feels like a fitting acronym for what will now serve as the region's central hub for culture and art. "Some see an arch, a contemporary symbol of a new gateway in Bordeaux," says Rousset. "Others see a majestic 'M.'"
The space opens to the public on Saturday, June 29th.
Related Reading: A New Exhibit Showcases 10 Years of Bjarke Ingels Group's Architecture