Is bigger better? Pinterest wants to know.
The homepage board presentation has now been cleaned up with a box grid design and some usability improvements. The original is shown above; here's the new version. It's subtle, but a definite improvement.
Where one really notices the impact is in viewing individual boards or clicking on all Pins in the navigation. From this: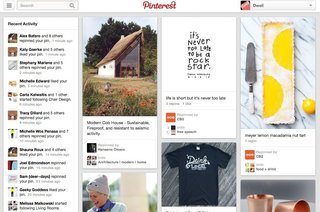 And, all of Dwell's recent pins this morning are looking big and bright. (Don't mind Honey; she's just catching up on the latest issue.)
Get a Daily Dose of Design
Sign up for the Dwell Daily Newsletter and never miss our new features, photos, home tours, stories, and more.