Rural Texas commonly conjures visions of Stetsons, spurs, and longhorn steer, but the countryside contains more than just cowboys. On a wide stretch of farmland, the Farley Studio brings modern architecture and contemporary art to Fort Worth's farthest reaches.
It's easy to forget that spring has not officially arrived as we travel the Texas highway between Austin and Fort Worth in early March. Leafless oaks are a quiet reminder of winter, but the heat heralds summer. As we speed past billboards for rifle shows and firework stands, architect M.J. Neal points out the low corrugated-metal outbuildings scattered across farms and pastures. "They sit on the land and they don't take anything away from it," he says from the driver's seat. "The form can handle the landscape and vice versa."

That was the kind of presence Neal was after when he designed the Farley Studio, a 2,430-square-foot live/work space in Cleburne, Texas. Though Neal's Austin-based practice has a diverse portfolio, it's fair to say that this project was an unusual one for him, situated as it is in the seat of rural Johnson County. Driving along the tangled roads that lead to the house, it seems you're more likely to come across a meth lab than a street lamp.

Neal met Kyle Farley in a bar in Fort Worth when Neal and his wife, Viviane Vives, were teaching at the University of Texas at Arlington. Farley, an artist, was earning a living as a pro golfer and manager of a private course. He had recently lost his painting studio and much of his work in a fire. "I could tell he was going nuts without a place to paint," Neal recalls. They talked that night about building Farley a new studio, but time and money were in short supply. It was two years before Farley called Neal and said he was ready to realize the vision. The budget was still tight, but Neal had been struck by Farley's talent, and building an art studio seemed less like a client request than a calling to do whatever it took to get Farley painting again.

Newsletter
Join the Daily Dose Mailing List
Get carefully curated content filled with inspiring homes from around the world, innovative new products, and the best in modern design
Farley and his wife, Angela, were ready to move from their house in Fort Worth to live full time in Cleburne, so Neal set out to design a residential studio. Local context and cost of materials were primary determinants in Neal's planning process. Fortunately, most of the nearby homes and buildings were modest, to say the least, so a simple barn seemed like the best model to follow—with high ceilings and open interiors that could accommodate Farley's large-scale artwork and a profile that would blend naturally into the surroundings.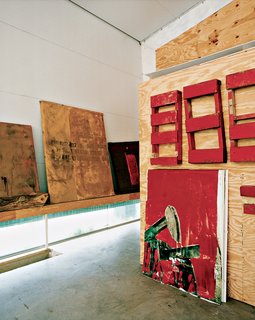 Rolling down Farley's gravel driveway, we pass a small paddock where a miniature donkey grazes lazily, then park beside a large white pickup truck. Farley—tall and burly with a flattop haircut and a deep Southern drawl—emerges to greet us. He leads me around the house, across the elevated concrete deck, and inside through sliding glass entry doors. Two herding mutts—both of whom seem to be suffering early symptoms of dementia—yelp from the fenced side yard. "Those are my fur kids," Farley explains. "They might bite your heels so I'm keeping them outside." The two cats, however, freely scrutinize us from perches around the house.

The interior of the studio feels like an airplane hangar. Four enormous steel framing elements sweep overhead, enclosed by galvanized corrugated metal, steel structural insulated panels (SIPs), and translucent polycarbonate siding that evokes rice paper and allows brilliant white daylight to pour in while obscuring views to the outside. If there's one adjective that dominates in both Neal's and Farley's descriptions of the place, it is "raw": a raw structure in a raw landscape full of Farley's huge, raw paintings. "I wish you could see it at night," Farley tells me with childlike enthusiasm. "The whole place glows. The intensity is really nice."

Farley's studio, which occupies the rear of the building, has just three narrow windows set low along the floor, but two walls of glass at the front of the house offer a panoramic view. From the sparsely furnished sitting room, where two low white chairs face each other like ghosts in a focused tête-à-tête, the vista is an expanse of desiccated wild grasses, interrupted occasionally by property fences and pits filled with lingering rainwater.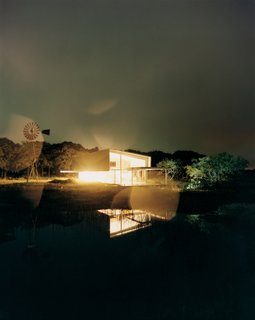 In a climate like this, air-conditioning seems indispensable, but to cool the entire structure artificially would be inefficient and costly. Neal devised a solution by building a 540-square-foot box nested within the superstructure, which contains the bedroom, bathroom, and kitchen, as the only air-conditioned space in the building. The two-story plywood envelope has sliding walls on all sides that can be closed to keep cool temperatures in or left open to the fluctuations of the natural ventilation throughout the building.
While most of the materials are unfinished and largely utilitarian, the bathrooms' dramatic tiling throws a polished accent against rough surfaces—glossy black downstairs and pure white upstairs. Electricity runs up through a thick orange extension cord for occasions when they need to see themselves in the mirror. "Angela is really good to live like this," Farley says of his wife. "She doesn't require the powder room and stuff. She's a pretty good gal."
Farley shares Angela's low-maintenance attitude. He loves the added bonus of effortless housekeeping that the sliding walls facilitate. "I open up both ends and just blow the place out!" he exclaims. "It's like a giant wind machine. Who wants to vacuum this whole place?" Clearing dust and dirt from the concrete floors is simple, but spilled paints dry where they fall. Unless, of course, one of the fur kids happens to be passing by, as evidenced by a trail of red paw prints cutting across the studio. "I wouldn't be too concerned about trying to pull this stuff up."
Farley's laissez-faire style comes through when he discusses his work, but the work itself is the product of an intense, deliberate creative force. The studio is lined with enormous paintings and mixed-media compositions using canvas, wood, metal, old tobacco wrappers, Swiss army blankets, and other found objects. As I stand in the midst of it, the galleries of Chelsea feel light-years away, and it's striking to consider how many phenomenal artists are tucked away in rural pockets, sitting on unseen work.
"I've always wanted to go to the West Coast or East Coast, but Angela's family lives here," Farley says. "We love the country aspect, but you're not going to be talking about art in this town very often." Oddly enough, Farley then tells me that one of the greatest contemporary Western mural painters, Stylle Read, lives here in Cleburne, along with his 87-year-old father, Sleepy Read, who is also an artist. "Sleepy has a totally refurbished 1949 Cadillac with all the chrome, wears a cowboy hat, and drives all over town. Handlebar mustache," Farley recounts with a smile. "When I first met him he said to me, 'You do modern art?' I said, 'Yessir.' He said, 'Me, too. Do you know something, son? I haven't sold any modern art since 1937.'"
Farley chuckles, but observes in a more serious tone, "When you're not from the country, you don't think about how a blue-collar living gets made. People here talk about the harvest and the sheep and when you're gonna get your cows vaccinated. And that's the talk. You're not going to be sitting around talking about the Bauhaus. The things I grew up involved in were nothing like what's out here. If I had more money it'd be a lot more enjoyable. But that's an excuse, I guess. I keep painting: Some of the work's good, some's not. I just keep moving."
It's clear that the relationship between Farley and Neal is more familial than professional. Farley is unreserved in his expressions of gratitude and respect for Neal, and Neal regularly chimes in to encourage or assuage Farley, who is often self-effacing. "It's nice to get a reminder," says Farley, "to have someone who will say, 'Hey dude, you are forging a brave new frontier. These people don't understand what you're doing.'Because everybody asks."
Though friends and family are an obvious anchor for Farley, he is without a doubt a fiercely independent person, and the introspective artist in him requires no prompting to recognize the merits of this place. Standing on the deck with Angela at midday he muses, "It's kind of got that Donald Judd feeling. You can actually see the rotation of the stars at night, looking up every few minutes. You can see where they've shifted. And during the day shadow lines show up to show you where you're at and how time's passing. The light will rake the corrugated metal and the steel on the catwalk, and you look down and say, Oh look, there's a cross!—where the shadow comes through and goes back out. It's just stuff like that all day long."
As we prepare to depart, a new shadow cuts across the deck: One of the cats, who has surreptitiously wedged her paw through a displaced piece of siding, is batting the air trying to escape. Farley trots over and pulls the cat's paw away from the loose siding as though separating two feuding children, as amused as he is exasperated by the ongoing crusade to secure his nest and keep the pets safely inside. It seems clear that the Farleys have adopted not only their motley band of animals, but the house itself, as members of the family.