These 8 Log Cabin Kit Homes Celebrate Nordic Minimalism
Inspired by Nordic nature, Honka offers prefabs and custom-built log home kits at an affordable price.
Founded in 1958 by the Finnish Saarelainen brothers in Eastern Finland, Honka—known as Honkarakenne in Finland—was the first industrial manufacturer of log houses. Today, the pioneer brand has built almost 85,000 houses across the globe, including a quaint Scottish retreat for the Queen of England in 1969.
Newsletter
Join the Prefab Homes Newsletter
Get carefully curated content filled with inspiring homes from around the world, innovative new products, and the best in modern design
Using PEFC certification Pinus Silvestris pine wood—an exceptionally hard and durable variety that grows wild in the country—from sustainable Finnish forests, Honka log homes are able to withstand various changing temperatures and humidity levels, with little to no cracking.
Available in Europe, Asia, and North America, Honka offers a diverse range of home models in a wide range of sizes and configurations, which can be made with both settling and non-settling logs.
The brand also carries Honka Fusion models, which can be more easily combined with other architectural construction materials, and are very suitable for compact urban settings.
Below, we've rounded up eight contemporary Honka models that have been built in Finland and exude plenty of nature-inspired, Nordic allure.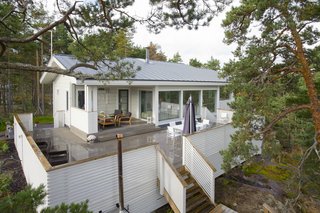 Shop the Look
To learn more information about these log homes, visit the Honka website here.