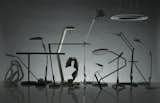 Jaime Salm Reviews 15 Energy-efficient LED Lights
Forever replacing bulbs might fast become an act of the past as long-lasting, energy-efficient light-emitting diodes (LEDs) make their way into the marketplace.
With the introduction of the commercially viable incandescent bulb in 1879, our ability to control and apply light was forever altered. One hundred and thirty years later, as governments step up lighting regulations and energy concerns fuel the innovation of illumination, lights are undergoing another revolution, and light-emitting diodes are leading the charge.
Join Dwell+ to Continue
Subscribe to Dwell+ to get everything you already love about Dwell, plus exclusive home tours, video features, how-to guides, access to the Dwell archive, and more. You can cancel at any time.