International Style at Dwell on Design
The international presence at Dwell on Design has grown exponentially since the show began in 2006. Exhibitors from Finland to France, presenters from New Zealand to Norway, and attendees from all over the globe make this year's conference not only America's largest modern design event, but also an important representative within the ranks of design shows worldwide.
Firms such as Fermob, a Lyon-based outdoor furniture company, who will be bringing pieces from their various collections, continue to guarantee that European design firms will be well represented. Also on the floor this year will be Altra Design Ltd. from the United Kingdom with their "low cost and high design" concepts, as well as Hurbz of Belgium who will highlight KIGA, their kitchen garden tables. Finland-based VividWorks will offer their web-based 3D design platform for perusal. Deacero of Mexico will be exhibiting their multitude of products for everything from agriculture and industrial to fence systems and cables. Quench Design from Australia, a collective of six diverse designers, will also have a booth on the show floor.
Newsletter
Join the Daily Dose Mailing List
Get carefully curated content filled with inspiring homes from around the world, innovative new products, and the best in modern design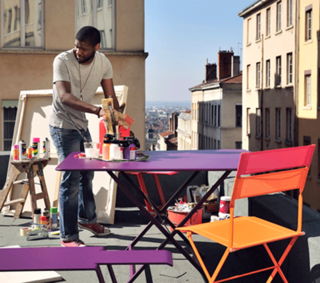 Prefab will continue to be an important component in the modern design forum, with products from Sustain Design / Altius Architecture of Canada, while fellow Canadian companies Sidler International and Wetstyle bring their distinct takes on bathroom design. Napoleon Products and Azure Magazine round out our northern neighbor's presence.
Presenters include New Zealand–based lighting designer David Trubridge, whose lecture, "A Design Journey," is also a segment of the Furniture Society symposium, a good portion of which is being held at Dwell on Design this year. Graham Smith, from Canada's Sustain Studio Design, will be discussing prefab with deputy editor Aaron Britt and architects whose prefab designs will be featured in Dwell Outdoor. Trevor Kruse, a member of Interior Designers of Canada, will host a CEU workshop for designers on the challenge of designing small, smart spaces.
Additionally, Metropolis editorial director Paul Makovsky will be presenting Young Guns: Norwegian Wood alongside Kristine Five Melvær and Torbjørn Anderssen, on their individual design inspirations, principles and processes, as well as Norway's tradition of working in wood.
Makovsky is also the curator The Essence of Things: New Designs from Norway, making its west coast debut at Dwell on Design. This group exhibition, showcasing innovative work by up-and-coming Norwegian designers, is part of the Insidenorway project organized by the Association of Norwegian Furniture and Interior Industry, Innovation Norway, and the Norwegian Consulate General in New York.
Design enthusiasts from around the world will be attending Dwell on Design this year, with six out of seven continents represented. Attendees from countries as far-flung as Cote D'Ivoire, the United Arab Emirates and India will be mingling with guests from Colombia, El Salvador and Japan, amongst others. We look forward to discovering great design from all over the world at this year's Dwell on Design!
This article was originally published on May 6, 2013 on our sister site, Dwell on Design.