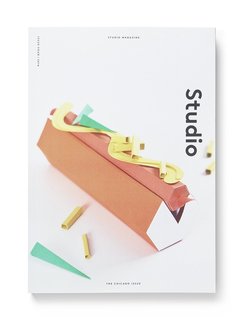 Innovative Workspaces Across Chicago
New Zealand's Studio Magazine goes behind the doors of Windy City design firms to see how the city's creatives work.
"There's no doubt we're voyeuristic and a little nosy," says Zoe Ikin, one of the editors and founders of Studio Magazine, a publication based in Auckand, New Zealand, that profiles creative workspaces and studios around the world. "We love to see what everyone else is doing."
When Ikin was given an opportunity to be a visiting design researcher in Chicago for the branding firm VSA Partners last summer, she decided to take advantage of her stay and devote issue #4 to the city's creative community, collecting photos and interviews from offices such as Pitchfork Media and print and design studio Sonnenzimmer. While working "from the bottom of the Earth" with collaborators Clem Devine and Sam Trustrum, her fiance, on previous issues, they'd never had the chance to focus on a single location. This gave them a chance to shine a light on where the "incredibly enthusiastic and supportive" local design community works.
"Creative people are an international breed," she says. "There's an appreciation for modest spaces. Chicago had all of these great industrial offices—there was no shortage of light, lofty spaces to visit."
Ikin, who normally works as a designer at Alt Group, noticed plenty of trends in office layout—the emphasis on smaller rooms for collaboration at IDEO, or the flexible desk arrangements at Basecamp (formerly 37signals), fitting for a company that champions remote working. But one thing she says that's been a constant throughout her work on studio is not to judge an office by its layout.
"The best work is coming from non-showy spaces," she says.
Pictures of Studio Magazine courtesy of Mark Smalling, VSA Partners
Get the Dwell Newsletter
Be the first to see our latest home tours, design news, and more.