View Photos
Flutes, Chili Peppers, and Frying Pans: How Symbols Enable 900 Million to Vote in India
The emblems of India's political parties make voting ballots easy to decode—even for those who can't read or write.
India's 2019 election is a hot-button issue across the globe. Nearly 2,300 political parties are vying for more than 500 seats in the lower house of parliament in a seven-stage voting process that has run from late April through late May—and the winners will be declared this Thursday, May 23. One of the most biggest measures is whether the current prime minister, Narendra Modi, will maintain his position or be thwarted by opponent Rahul Gandhi.
Roughly 900 million citizens were eligible to vote—and vote they did. This year's election accounted for the highest-ever voter turnout in the history of Indian general elections—over 67 percent—as well as the highest turnout of women voters.
In the early 1950s, when India held its first general election, literacy hovered at around 18 percent. This number has skyrocketed to 74 percent according to a 2011 census; however, political analyst Biswanath Chakraborty contends that functional literacy hovers at just below 50 percent. NPR also found that "according to a 2011 study, only a quarter of those counted by the census as 'literate' could read a second-grade text."

How do you convey a message without words (and enable people to vote)—especially in a vast multiparty system?
Newsletter
Join the Daily Dose Newsletter
Get carefully curated content filled with inspiring homes from around the world, innovative new products, and the best in modern design
Enter the sketches of M. S. Sethi, an artist who worked for decades as a draftsman for the Election Commission of India (ECI). His drawings are meant to be instantly recognizable: a loaf of sliced bread, a cricket bat, a balloon. Following his retirement in the 1990s, more contemporary objects—like a computer mouse—joined the list of political party symbols.

K. F. Wilfred, the principal secretary at ECI, attested that "beginning from the 1950s, one of the biggest problems for many voters in India...was how to identify the candidates on the ballots. And on the election commission fell the laborious task of allocating symbols for each party and the innumerable independent candidates."
Wilfred said "It was decided that the symbols chosen should be such that they are easily understood, remembered, and recognized by an average voter. So, a team of officials would sit together and discuss the day-to-day use articles like a table, telephone, cupboard, and toothbrush—that could be used as symbols by political parties. Sethi, a part of the team, would then draw those items."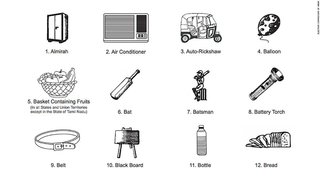 New political parties must pick three symbols they're interested in from the list of available symbols. The ECI assigns one of the selections to the new party, and other parties are prohibited from using that emblem. In cases where one party breaks in two, the ECI has the final say on which group may keep the original symbol, and which must go through the process of acquiring a new one.

The ECI will provide real-time election trends and results on eci.gov.in and results.eci.gov.in.
Cover photo courtesy of Naveed Ahmed.