View Photos
A Social, Colorful Lobby Invites Students and Hotel Guests to Mingle in Amsterdam
Hotel Casa, which debuted in the 1950s, emerges as an all-day fashionable hangout in Amsterdam East.
In the late 1950s, four entrepreneurial students, armed with just 100 Dutch guilders (around $50), dreamed up the Casa Academica Foundation. It was intended to be a clever real estate solution to Amsterdam's student housing shortage at the time. During the school year this new structure, which opened in Amsterdam East in 1962, would function as a much-needed dormitory; in the summer months all the rooms with empty beds would transform into a no-frills, money-making hotel. Now, with an overhaul by Amsterdam design studio Ninetynine, Hotel Casa is as much a community hub as it is a convenient choice for low-key accommodations.
Get the Dwell Travel Newsletter
Get carefully curated content filled with inspiring homes from around the world, innovative new products, and the best in modern design.
Through the decades there were numerous changes for the hotel: floors segregated by gender eventually gave way to co-ed options, there was a significant renovation in 1980, and in 2010 it moved to a new location a few blocks away from the original. The rooms were also upgraded with more hotel amenities like flat screen televisions and large desks. Ninetynine didn't alter any of the 519 spacious guest rooms nor the rooftop beer garden Hopp, but instead turned the lobby into a bustling destination its own right last spring, with disparate spaces that organically blur into one another.
"The biggest challenge was to make it attractive to a wide audience without being generic," says Jeroen Vester, Ninetynine's founder and creative director. "There is a strongly young at heart, forever young vibe and we really wanted this to be experienced throughout."
For example, beyond the study-friendly lobby and living area is the versatile EAST, a café, restaurant, and bar that is the heart of socializing. One end, close to reception, is devoted to the coffee shop, yet as the bar traverses the restaurant, the other end effortlessly morphs into a spot for sipping, say, Moscow Mules.
Demarcated by custom perforated steel plates, the mezzanine connects the ground and first-floor levels, extending the lobby upstairs. Here, one finds contemporary meeting facilities and breakout zones with features like neutral chairs that pop with seat cushions in saturated hues. A 131-foot-long grid wall tinted nude is the visual focal point. Crafted from sound-absorbing wood cement boards, a material commonly found in student housing, it's one of the ways that Ninetynine nods to Hotel Casa's heritage.
Another is the playful arrangement of furniture, the lobby's motley vignettes of chairs, sofas, stools, and tables. "It's an analogy for communal housing," Vester points out. "Someone brings a chair, another brings a cupboard and there is an eclectic setting that somehow works together and exists because of coincidence. We wanted to mix all these different looks."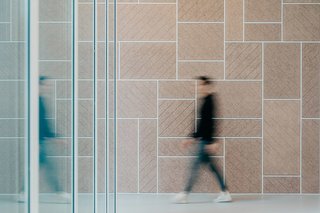 To create a cheerful atmosphere, the antithesis of bland dorm lobbies, Vester blended bright colors. Still, this complementary swirl of blue, yellow, and pink is grounded by earthy elements, like an abundance of plants, oak, and natural light streaming through the large windows. Although the plentiful sunshine was a boon, Vester says that it sparred with his goal of fostering coziness, yet another incentive for establishing the lobby's various intimate nooks.
Given the assortment of Hotel Casa's guests, flexibility was crucial to Ninetynine's design. There needed to be a long table for stressed-out, on-deadline students to gather at with their laptops, just as low-slung coffee tables for leisurely novel-reading with a cappuccino were essential.
"To make all areas as accessible as possible was the main brief from the hotel. This non-boundary design makes it intuitive and welcome everywhere, but clear enough that someone can say, 'Maybe this space is not for me at this time,''' explains Vester. "In the high season there can be 300 people having breakfast downstairs, but in the low just 20 students at the bar. You choose your space depending on your mood."
Related Reading: A Sculptural Brass House Glows Like a Jewel in Amsterdam
Project Credits:
Interior Design: Ninetynine
Architect of Record: OZ Architecten

Builder/General Contractor: Draisma
Structural Engineer: abt
Landscape Design: Copijn
Sound Engineer: Peutz
Other: Holmris B8
Other: Roord Binnenbouw