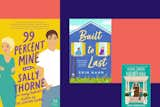 Home Renovation Shows Meet Cute with Romance Novels
Why flipping houses and falling in love work so well together.
Picture it: two people with great chemistry look at three houses. They don't choose the easiest one to renovate, but their choice does have character. And that's when real fun starts: "I can feel her stare burn along my skin, licking at my neck and caressing my forearms. I stop to look at her, swiping at sweat and offering the mallet. She shakes her head, lips spreading in a salacious smile, well aware the camera's rolling. 'No, thank you. I'm just happy to supervise.' Shelby winks in an overly cheesy way, the camera eating her up."
No, it's not a spicy new direction from HGTV–though maybe they should consider it. It's a scene from Built to Last, an upcoming romance novel.
At first glance, a home renovation isn't perhaps the most conducive setting for love. It's dirty, there's dangerous equipment lying around everywhere, and tempers can flare over the smallest things. But home reno has become a popular romance novel setting in recent years—obviously influenced by the huge cultural dominance of HGTV, which is currently a form of entertainment on par with the great sitcoms of the 1990s. You might have spotted two in particular on the shelves at your local bookstore or Target. Tessa Bailey's "Hot and Hammered" series, which came out in 2019, follows members of a family flipping business; Bailey began with Fix Her Up, which featured the baby sister of the brood and the baseball player she's always loved—he's got a busted knee and could use some distraction from the mess of his life swinging a sledgehammer. Sally Thorne, another writer whose work has been part of the recent romance boom, tackled the trope with 99 Percent Mine, in which a home reno finally offers a woman a chance with her brother's best friend.
But new romances are taking it a step further, refining the premise even further and actually putting the whole thing on TV, imagining their protagonists not just as working together on a flip project, but co-stars as well. It turns out that the home renovation show and the romance novel work very well together—and they've a lot more in common than you might realize.
For Erin Hahn, opting to write about a couple who finds love while working together on a home renovation show was partly a pandemic response. After writing in YA for years, Built to Last is her first adult romance, due out in October, and as she puts it: "I was like, if I'm going to write this adult romance, I want it to be just my favorite things, just this joyful, comforting read that is the opposite of what's happening in the world." The result imagines two former child stars who get a second chance together years later, as older, wiser, and healthier adults when they do a pilot for an HGTV-type show.
Ashley Herring Blake, on the other hand, backed into the concept. She was plotting out the follow-up to her queer rom-com Delilah Green Doesn't Care, and she needed a high-stakes situation where her heroine Astrid—already established in the series as an interior designer—could have some important realizations about herself. For Astrid Parker Doesn't Fail, out in the fall, she landed on an enemies-to-lovers setup where Astrid finds herself going head-to-head with a stubborn carpenter named Jordan to transform an inn, the two of them locking horns over the right look for the property. It's all featured on a show called INNside America, hosted by a woman with a resemblance to a Chip-less Joanna Gaines who travels across the country, overseeing the renovations of historic inns.
You see, there's essentially one rule of romance novels: You know before you ever even open the book that the couple is going to get together. The question is how. It's a lot like the home reno genre, really—you know there will be a finished house at the end, and the suspense is all about what that'll look like. The home reno show producer needs a catchy concept or a particularly charismatic star; the challenge for the romance writer lies in finding a fresh premise where they can trap their protagonists in close proximity, but keeping them apart just enough, for just long enough, to sustain the tension that makes the whole book work. A home renovation offers, in many ways, the perfect setup: Your characters are stuck together, with all kinds of things to fight about and, at the same time, the overarching need to work together.
"We love seeing how something that could be so at the end of its rope turned into something almost magical."
Of course, then the struggle is making sure the home renovation doesn't take over the book entirely. Both Blake and Hahn admit they had to peel back, occasionally, on the design details.
"I don't know if it was because of the pandemic and we were all renovating things during that time and we were all stuck at home, but there was definitely a lot of me being like, 'okay, so how can I make this house perfect?'" Hahn says, adding that she had to remember there's only so much they can fit in the shows, too.
Blake, meanwhile, got deep into the research: "My Pinterest page for that story is covered in all these rooms that I found that inspired it, rooms that I would explain and put in the details and this copper tub and blah blah blah," she says—though then her editor went through and cut all kinds of details.
For Blake, though, design did offer another venue for playing out the differences between her characters, because they're feuding over the look of the inn, which has been in Jordan's family for generations. "Jordan hates everything Astrid does," Blake explains. She describes Astrid's style as "very clean and modern and a little textured here and there"—think Pottery Barn and Crate & Barrel—while Jordan thinks that an inn famously rumored to be haunted needs a look that reflects that fact.
"It was really fun digging into Jordan's style," Blake says, "her more spooky and cozy darker taste. Because I feel like that's kind of opposite from everything we see on HGTV right now. Everything is bright, white and modern farmhouse, which I love! My own house is very much like that as well. That's kind of what Astrid is. But then it was interesting to go searching for something a little bit different, like dark blue walls and what that would look like." In short, even without an interior design background, she hit upon and plumbed existing tensions in the business for her own purposes.
Hahn, for her part, became obsessed with a nook that her protagonist Shelby essentially renovates an entire home around. "This imaginary nook that I've always wanted in real life, with the windows and a bench and bookshelves, a reading corner—it's perfectly made in my head—I was like, that has to stay."
But what she's really enjoyed is the opportunity to find fellow fans of home improvement shows and gush together: "There's just a huge subculture of people who have been loving these shows for the last few years, and it doesn't come up in conversation nearly enough," says Hahn. "I want all the HGTV-adjacent romances, please." (She just doesn't want anybody to assume that because her heroine has short blonde hair, for instance, she's a commentary on Home Town's Erin Napier, or any other specific host. "This is a compilation of all my favorite people, and also me.")
Romance has long had intertwined fascinations with whatever's happening in popular culture and the related fantasy careers for women. In the 1980s, you saw lots of corporate raiders and an impossible number of men who looked like Magnum: PI. Now you see a lot of reality TV premises, from riffs on The Bachelor franchise—see Julie Murphy's If The Shoe Fits and Kate Stayman-London's One to Watch—and numerous cooking competition shows settings—Love and Other Disasters; Rosaline Palmer Takes the Cake. It's a little bit a reflection of what's working in the market and what readers are responding to, and a little bit a reflection of what authors themselves are into at any given moment. Once the genre was heavy with glamazon-yet-vulnerable supermodels and power suit-clad corporate women; now there's more imagining what your version of a Joanna Gaines persona would look like. It's yet another testament to home design shows' huge cultural prominence: you know something's really big with the women of America when you start seeing it pop up in romance novels.
But it's not just a convenient setting, or a big phenomenon in pop culture right now, or even simply the fact that capable people with well-developed muscles in dusty work boots are, let's face it, pretty hot. There's a deep resonance between the two genres. Both run on tropes, for instance, and those tropes are awfully similar: Hahn's book is a classic second-chance romance—and what's a home renovation show, if not a second-chance romance? Blake's book is enemies-to-lovers, and that's the dynamic that a show like Love It or List It is always flirting with.
They have similar plot beats, too: "Three quarters of the way through the episode there's always a hiccup, right?" Hahn notes—something doesn't arrive on time, or there's mold somewhere, and the hosts have to work together to fix it. "Like a romance novel, right? You always have that hiccup three quarters of the way through that they have to figure out a way to get past in order to get to your happy ending." For Blake, who describes herself as "all emotions when I write—I'm like, ok, they feel this, and here's the internal struggle," the beats of the renovation "actually provided really good bones to all the goo."
Most importantly of all, they're both fundamentally about transformation. "Everybody loves a transformation," says Blake, citing the endless appeal of makeover shows. "We love seeing how something that could be so at the end of its rope turned into something almost magical."
"It's the same way with characters," she adds. "If they don't change, you don't really have a book." Sure, in real life, you can do a lot with a fresh coat of paint and a new set of drawer pulls, but it doesn't create much drama on television. And two well-matched people quietly, maturely getting together with a minimum of drama is wonderful to see, but it doesn't give you much of a narrative arc in a romance novel. You need a bit of a mess at the beginning; an even bigger mess in the middle; and at the end, the big payoff in the form of a rock-solid structure for the long haul. In other words, a happily ever after.
Top images courtesy of William Morrow, St. Martin's Griffin, and Pikatus.
Related Reading:
Trixie Mattel Shares DIY Advice—and What You Didn't See on Her New Home Reno Show
How the Creators of 'A Strange Loop' Set the Literal Stage for the Tony-Winning Musical
Get the Dwell Newsletter
Be the first to see our latest home tours, design news, and more.