View Photos
Before & After: A Melbourne Pub Is Recast as a Funky Home
Formerly a dated pub, then an office space, Hoa's House is now a three-bedroom abode with curves in all the right places.
When Amy Bracks and Miles Ritzmann-Williams teamed up to form the Melbourne–based design firm Ioa Studio, their first commission was to transform a 150-year-old pub in North Melbourne into a three-bedroom home—using color, texture, and serpentine lines to make the residence as warm as it is compelling.
Before the pub became a home, the building was originally known as the Kings Arms Hotel. "It was subdivided into three separate titles," Bracks says. Just before Bracks and Ritzmann-Williams's client and friend bought the central portion, the space was being used as an office. "It was very dull and clinical," Bracks adds. "It didn't have a straight bone in it, and the plan was very awkward."
Before: Kitchen
Newsletter
Join the Renovations Newsletter
Get carefully curated content filled with inspiring homes from around the world, innovative new products, and the best in modern design
After: Kitchen
As Bracks and Ritzmann-Williams, who has since moved onto another firm, worked to transform the commercial space into a residential one, they maintained original elements that call to mind the pub's history. "Where possible, we kept existing materials—exposed brickwork around the windows, old ceiling joists, bluestone walls, and concrete [flooring] that we polished and sealed," Bracks says. "We reused and repurposed materials we found and kept material wastage to a minimum."
Before: Second-Floor Bedrooms
After: Second-Floor Bedrooms
The designers worked closely with the builder, completing some of the construction work. "We experimented with materials and colors and learned through building," Bracks says. "Being on-site so much gave us the ability to discover and create unexpected moments like a hidden mezzanine reading area in the existing roof space of the old pub." Removing some of the ceiling's structural elements facilitated the mezzanine and created double-height space for the first-floor living areas.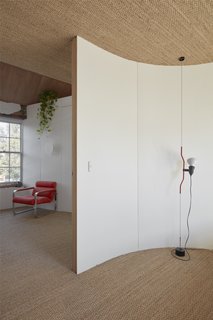 Before: Mezzanine
After: Mezzanine

The client specifically requested rich textures and colors that call to mind the Australian bush. In response, the designers covered the floors and the ceiling on the second level with seagrass and used soft hues to define rooms on the open-plan first level. In the kitchen and dining space, olive green cabinetry and pale pink pipes, beams, and columns help to separate the areas from the living room. A step—with a built-in storage drawer—and curved walls also help to create definition. "The curves were the key to dividing the small, awkward spaces, and they connected perfectly with an existing archway," Bracks says.