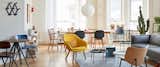 HAY's Summer Sale Will Make All Your Danish Design Dreams Come True
Run—don't walk—to HAY for one of the best sales of the season. But hurry—these deals won't last long.
If these items look familiar, it's because just about every issue of Dwell Magazine features HAY products on its pages. The Danish brand offers home goods and furnishings that are universally loved by minimalists and modernists alike. Here are our top picks from HAY's summer sale—scoop them up before they sell out!
We love the products we feature and hope you do, too. If you buy something through a link on the site, we may earn an affiliate commission.
Related Reading:
Get the Shop Newsletter
Smart shopping for the design obsessed. Find what you love in our expertly curated selection of finely crafted home, office, travel, and lifestyle products.