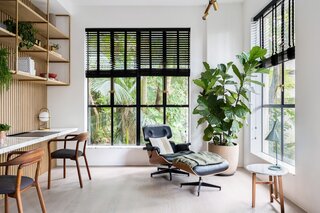 A Reinvigorated Apartment in Hong Kong Takes Cues From Nature and Japanese Design
Lim + Lu creates an urban oasis that balances beauty with practicality.
A Japanese and British couple with two children enlisted multidisciplinary firm Lim + Lu to overhaul their apartment, which sits on the second floor of an old building in Hong Kong. The goal was to open up the space and incorporate natural elements as much as possible throughout its 1,800 square feet, taking advantage of the home's tree-filled views.
To frame the verdant surroundings, Lim + Lu enlarged all of the existing windows and replaced the originals with large, antique steel casings. The previously enclosed kitchen now joins an open space comprising the living, dining, and study areas, creating a seamless flow that enjoys a connection with the outdoors. The apartment's neutral tones and natural finishes complement the punctuating greenery.
Shop the Look
The natural motif continues to the home office, an important addition for the homeowners, who both work from home often and requested a tranquil yet generative space. Lim + Lu met this need by creating a harmonious work area with a long marble desk and contrasting brass and wood elements.
The wife's Japanese heritage inspired the architects' approach to the renovation, an influence most explicit in the children's spaces. The kids' bathroom features a deep soaking tub that draws from Japanese bathing culture; acid-wash granite surfaces lend a soothing gravitas that "provides the same revitalization of body and spirit" that traditional soaking rooms do, according to the architects.
In the children's room, which is painted a muted green reminiscent of the natural environment, a wall between the beds allows for privacy without fully separating the two. Inspired by Japanese pod hotels, this feature was a creative answer to the clients' wish to provide privacy while "fostering a sense of togetherness," say Lim + Lu.
Get the Renovations Newsletter
From warehouse conversions to rehabbed midcentury gems, to expert advice and budget breakdowns, the renovation newsletter serves up the inspiration you need to tackle your next project.