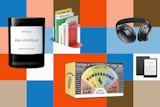 Gifts for Bibliophiles That Aren't Just Books
Consider these presents for the people in your life who can't leave a bookstore without copping at least three paperbacks from the dollar bin.
Whether you want to help wrangle their paperback collection with a set of stylish bookends or enable their literary obsession with the latest e-reader, these thoughtful gifts will satisfy the library card–toting, crossword puzzle–loving, inquisitive bookworms in your life.
A fun and functional option for keeping their books in place.
Get this game for your pun-loving friends.
The scent of this candle can turn any room into a lavish library.
This woven blanket is perfect for curling up with a good book.
A midcentury-modern staple for displaying their most prized volumes.
Put the whole library in their pocket with this lightweight device.
For those who color coordinate their book collection—this option won't clash.

An endless source of literary inspiration filled with excerpts, quizzes, and more.
Block out airplane noise, chatty roommates, and other distractions so they can read in peace and quiet.

A thoughtful subscription that lets them choose from five celebrated new novels each month.
A handcrafted book storage option for the most refined palate.
A 500-piece puzzle inspired by libraries for an evening of whimsy.
To help them craft their own envy-inducing home library.
Give the gift of a large and durable tote to carry all those books in.
For an endless source of design stories and inspiration. (If we do say so ourselves...)
Get the Shop Newsletter
Smart shopping for the design obsessed. Find what you love in our expertly curated selection of finely crafted home, office, travel, and lifestyle products.