This week at Dwell we've been thinking a lot about the future, from the announcement of the visionary winners of our Reburbia competition to the planning of our early 2010 issues (hard to believe!). Here's a week's worth of design finds that contribute inspirational fuel as we cast creative energy toward things to come.
Newsletter
Join the Daily Dose Mailing List
Get carefully curated content filled with inspiring homes from around the world, innovative new products, and the best in modern design
The online design community/retail site Social Designer has a new product up on the site that demands patience of the customer. 500 Colored Pencils is a 20-month subscription service that delivers a pack of 25 pencils to the subscriber each month until the full collection of 500 has been attained. They've also launched a corresponding competition that asks entrants to create either banners for the Web or posters for print that will be used in a promotional campaign to the sale of the product, proceeds from which support UNESCO initiatives to support youth art education. (via Selectism)
Sam: Cat Ladder
Enterprising cat owners get out your bookmarks,  feline architecture finally gets its own site.
Alexis: Lomo's Diana Mini Camera
Lomo just introduced their Diana Mini Camera with kick-ass features like half-frames, square format, double exposure and more, all with the ease of 35mm roll film.  Gotta love the design and the oversized flash head, very retro. This thing even fits in your pocket!  They sell a starter kit with flash for $100, I am so getting one.
Jordan: SuTurno Tiles
Fantastic geometric patterned tiles from Spanish design studio SuTurno make me wish I had a place at home to get grout-y, though they're certainly good-looking enough to use in small doses as wall art. The hues manage to strike just the right balance between bright and bold, but not too striking, while the matte black and white looks like old newsprint or a fuzzy xerox but complements the color just right. I'm mesmerized, and could just keep looking at these forever. (via Man Make Home)
Miyoko: When Architecture Met Pop Culture
This week, KCRW Design and Architecture (DnA) host (and Dwell Los Angeles editor) Francis Anderton chatted on air about the space where architecture meets pop culture. One such place was in this summer's sweet romantic film (500) Days of Summer, which chronicles the 500 days of Tom, an aspiring architect working as a greeting card copy writer, and Summer, who begins work at the office and quickly catches Tom's eye. The backdrop of the film is Los Angeles--though as Los Angeles Time architecture critic Christopher Hawthorne points out, almost exclusively pre-1950s Los Angeles environs. Download this episode of DnA to hear an interview with (500) Days of Summer co-writer Scott Neustadter, as well as from L.A. architect-turned-reality-star Richard Best and Santa Monica Pier: A Century of the Last Great Pleasure Pier auathor James Harris.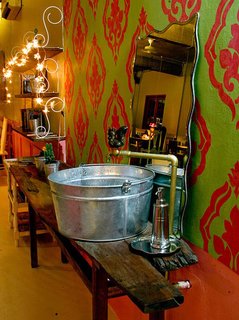 Sarah: Recyclart.org
This week I discovered Recyclart.org, a visually-driven, user-generated online gallery and sales portal for products and furniture made from recycled and upcycled materials. While not every item is awe-inspiring, there are some pretty clever projects that speak to the vast possibilities for giving new life to discarded material if you use your imagination (like this Tin bucket basin sink).