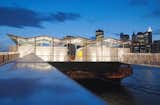 Floating Pool
There was once a steel-decked river barge, decommissioned and idle in Morgan City, Louisiana. Lonely and unused, it was purchased by the Neptune Foundation, a not-for-profit that constructs movable waterfront pools for recreationally underserved communities. The foundation commissioned Jonathan Kirschenfeld Associates to have at it; and one Hurricane Katrina and about two years of work later, the Floating Pool was sent north to New York. This summer, it's been moored at Hunt's Point, Brooklyn. Next month it will depart New York. Destination: the U.S. Pavilion at the Venice Biennale.


The Floating Pool is a seven-lane, 25-meter pool with translucent murals, showers, a spray pool and a terrace. It's not the first of its kind to float along Manhattan; at the turn of this century over a dozen "floating baths" eased along the East and Hudson Rivers. They were, essentially, pontoon boats with holes that allowed river water in, and were often moored near the tenement districts, providing an opportunity for the public to bathe and learn to swim.



Its first summer in New York, 2007, 50,000 people visited it as it floated in the East River by Brooklyn Bridge Park.


Get the Dwell Newsletter
Be the first to see our latest home tours, design news, and more.