Fine Finnish
Recommended by
A pair of crafty designers on a serious budget show that though their apartment may be short on square footage, it's long on charm.
Last summer, Susanna and Jussi Vento purchased a two-bedroom, 660-square-foot apartment in Helsinki's Punavuori district, where they live with their one-year-old daughter, Varpu. The building was "an unremarkable '50s high-rise," says Susanna, "but we liked the light in the apartment, the practical layout, and the original double doors between the rooms."

The tiny abode was in desperate need of a makeover, but knowing that an expensive pipe replacement loomed, the couple had to be frugal in their interventions. Fortunately, both work in creative fields—Susanna is an interior designer, stylist, and editor, and Jussi is a graphic artist—and renovating with a tight budget was exactly their kind of challenge. "We come from families that love doing things with their hands, so it's natural for us," Susanna says. With less than $4,000 but plenty of DIY spirit, the couple turned a boring flat into a visually exciting home. Susanna shows us how.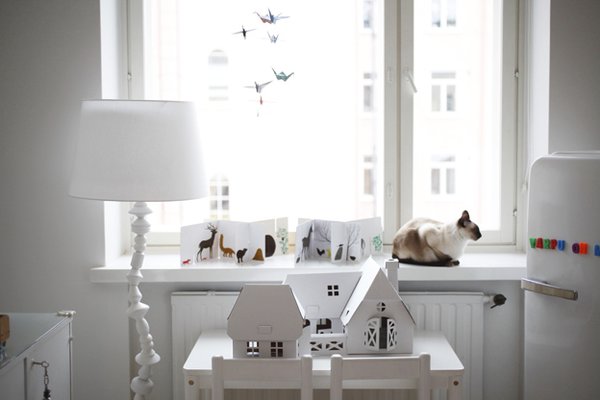 Katja Lindroos
@katja_lindroos
Katja Lindroos is a Helsinki-based journalist and producer who wrote "Fine Finnish" for Dwell's April 2011 issue. When she visited the inventive apartment of Susana and Jussi Vento, their daughter Varpu, and their Siamese cat, she remarked, "I shall never again underestimate the power of a Nigella Lawson chocolate cake."
Everybody loves feedback. Be the first to add a comment.
The author will be notified whenever new comments are added.