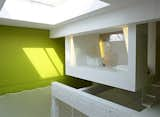 Experimental Design at Maison NW, Paris
Archinect has a new feature up on the renovation of a 1950s Paris print shop into a 2,000-square-foot workshop and studio for artists. Designed by architect Nathalie Wolberg (who also lives in the space), Maison NW is a living laboratory for experimenting with uses for and relationships to the built environment.
Wolberg's goals with Maison NW are to use design as a structural response to human needs, emotions, and senses. Knowing that multiple artists would be working in the space, she aimed to balance intimacy, autonomy, and sharing through the scale of each room and each module within a room. Her scooped wood stairwell is particularly striking, forming a soft set of descending cradles within a narrow corridor. A giant suspended net in the upper reaches of the space creates a communal hammock for weightless relaxation.
Check out Archinect for more detail on the concept and design, and lots more images.
Get the Dwell Newsletter
Be the first to see our latest home tours, design news, and more.